The Australian share market gave back its recent gains in September, with the All Ordinaries index closing the month 3.8% lower at 6,009.3 points.  The result was impacted by a poor last day of the month, with the market falling 1.8% on the 30th as the first United States presidential election debate unfolded.
The Australian Dollar also reversed its recent trend, falling by 3.0% in September, with 1 Australian Dollar buying 71.6 US cents.  The Reserve Bank of Australia (RBA) kept the official Cash Rate at 0.25% per annum, with the RBA board scheduled to meet again next Tuesday.
Global share markets were generally weaker in the month, with the United States Dow Jones index falling by 2.3%, the London FTSE falling by 1.6%, the Japan Nikkei 225 gaining by 0.2% and the Hong Kong Hang Seng Index falling by 6.8% for the month.
With the Australian Federal Budget to be announced next week and the United States election set for 3 November, it is clear that investment markets will be volatile as these political events unfold.  On the domestic front, I expect next week's Federal Budget to contain several key measures to support the economy recover from the impact of the COVID-19 downturn.
While the Federal Budget is important, I expect media focus to be extreme on the United States election over the coming weeks.  Included below is a table published in today's Australian Financial Review of the probability of certain United States election outcomes both on economic growth and the US dollar.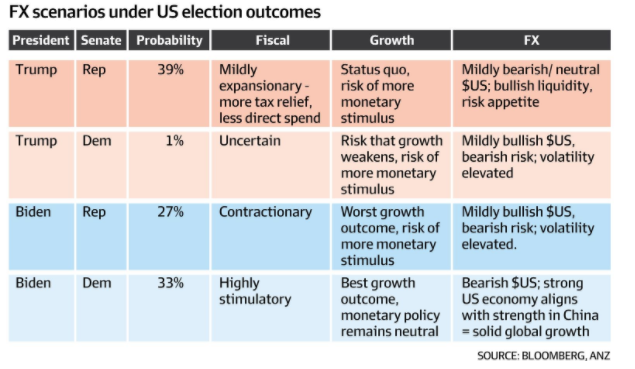 As noted above, the table assigns the highest probability of the United States election result being a Trump victory with the Republicans to control the Senate.  Interestingly, Sportsbet currently has Joe Biden as the $1.57 favourite to win the Presidential Election with Trump as a $2.40 outsider to win the election – in contrast to the table above. 
If recent elections are any indication, the bookies are often wrong.  However, it does appear as though the United States election will be a very close battle.
For more information, please contact Ryan Love on 1300 856 338.
This article is general information only and is not intended to be a recommendation. We strongly recommend you seek advice from your financial adviser as to whether this information is appropriate to your needs, financial situation and investment objectives.