November was a month to relish for investment markets, with significant gains amid positive trial results for several COVID-19 vaccines, and a United States election result that delivered a new Democrat President, while the Republican party looks to retain a majority in the United States upper house.
In context of the above, the All-Ordinaries index closed the month a staggering 9.9% higher at 6,742.1 points.  The Australian Dollar also gained by 4.5% in the month (despite increased tensions with our key trade partner, China), with 1 Australian Dollar currently buying 73.4 US cents.  
The Reserve Bank of Australia (RBA) cut the official Cash Rate to a new record low of 0.10% per annum in November.  The RBA board will meet again today, with no changes expected, before breaking for Christmas until February 2021.
Global share markets were all significantly higher in the month, with the United States Dow Jones index gaining by 11.8%, the London FTSE gaining by 12.4%, the Japan Nikkei 225 gaining by 15.0% and the Hong Kong Hang Seng Index gaining by 9.3% for the month.
As noted in the chart below, most investment markets (with the notable exception of the London FTSE and the Hong Kong Hang Seng Index) have all generated positive returns for the 2020 calendar year.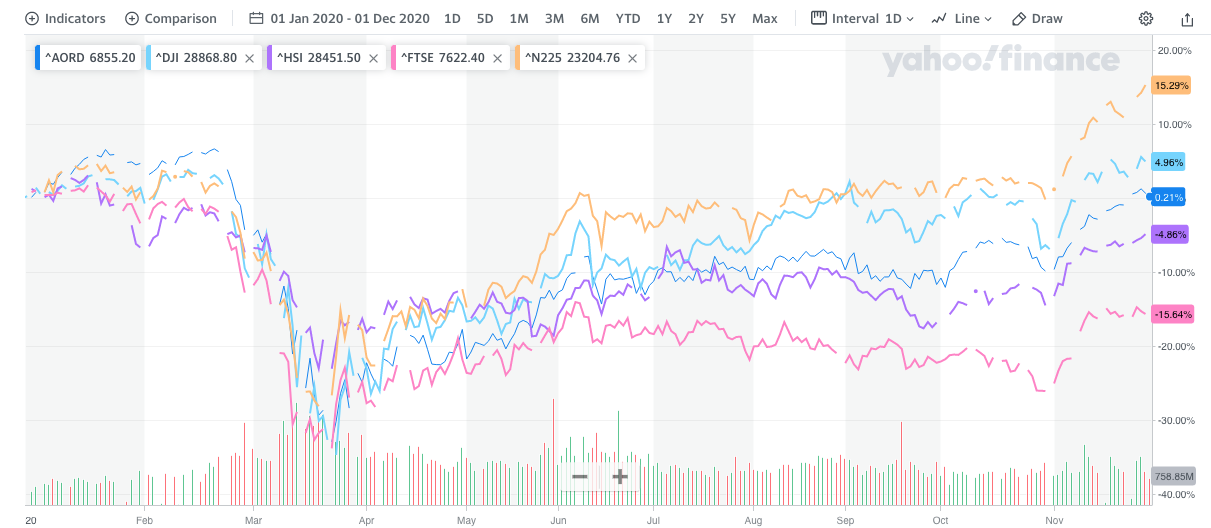 Source: Yahoo Finance
The above outcome is remarkable given the impact that COVID-19 had on investment markets in March.  Looking forward, the combination of low global interest rates and continued government stimulus measures are expected to be conducive to further investment market growth.
The key risk for the Australian economy as we wind-down from 2020 will be further deterioration of our relations with China – which accounts for around 30% of Australia's total exports by value.  It will not be an easy political issue to navigate, and an issue that ought to be monitored closely for the impact that it can have on the Australian economy (and by extension, the Australian share market and Australian Dollar).
For more information, please contact Ryan Love on 1300 856 338.
This article is general information only and is not intended to be a recommendation. We strongly recommend you seek advice from your financial adviser as to whether this information is appropriate to your needs, financial situation and investment objectives.