The Australian share market consolidated recent gains, with the All Ordinaries index gaining 1.4% to close the month of November at 6,057.2 points.
The Australian Dollar retreated by 0.8% in November, with 1 Australian Dollar currently buying 75.87 US cents. As expected, the Reserve Bank of Australia (RBA) left the official Cash Rate on hold at 1.50% per annum.
Global share markets provided mixed returns in November. The United States Dow Jones index gained 3.8%, the London FTSE fell 2.2%, the Japan Nikkei 225 gained 3.2% and the Hong Kong Hang Seng Index gained 3.3% for the month.
Further evidence was released today indicating that the Sydney housing market is slowing, with Sydney dwelling values falling by 0.7% in the month of November, and falling by 1.3% for the quarter.
The table below shows the change in index results for dwelling values across the country.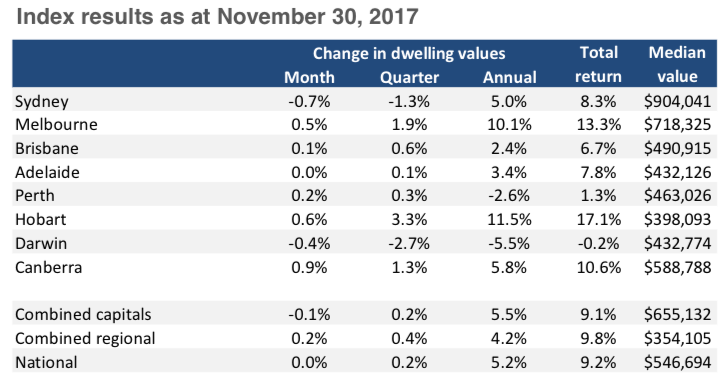 Source: Corelogic
While it is not my base-case expectation that the Sydney property market will experience a dramatic fall in dwelling values, it is clear that the recent strong rally in values has lost its steam.  Given the positive effect that a rising property market has on the economy (both in terms of construction work and retail spending), this is something to carefully monitor.
In addition, the change in property market conditions will most likely cause the RBA to maintain a low interest rate stand for longer. In this regard, I note that the RBA has previously expressed concerns about over-inflating property values with low interest rates.
For more information, please contact Ryan Love on 1300 856 338.
This article is general information only and is not intended to be a recommendation. We strongly recommend you seek advice from your financial adviser as to whether this information is appropriate to your needs, financial situation and investment objectives.