The Australian share market closed the month flat, with the All Ordinaries Index steady at 5,774.9 points. The Australian share market is clearly experiencing a period of consolidation following the strong performance in the first quarter of 2015.
Global shares were also relatively subdued in May with the US Dow Jones Index gaining 1.0% the London FTSE gaining 0.3%, the Hong Kong Hang Seng Index falling 2.5% and the Japan Nikkei 225 Index the standout performer gaining 5.3%.
With the end of financial year closing in, our licensee has put together a flyer containing some tax effective end of financial year strategies (note: click on the image below to download).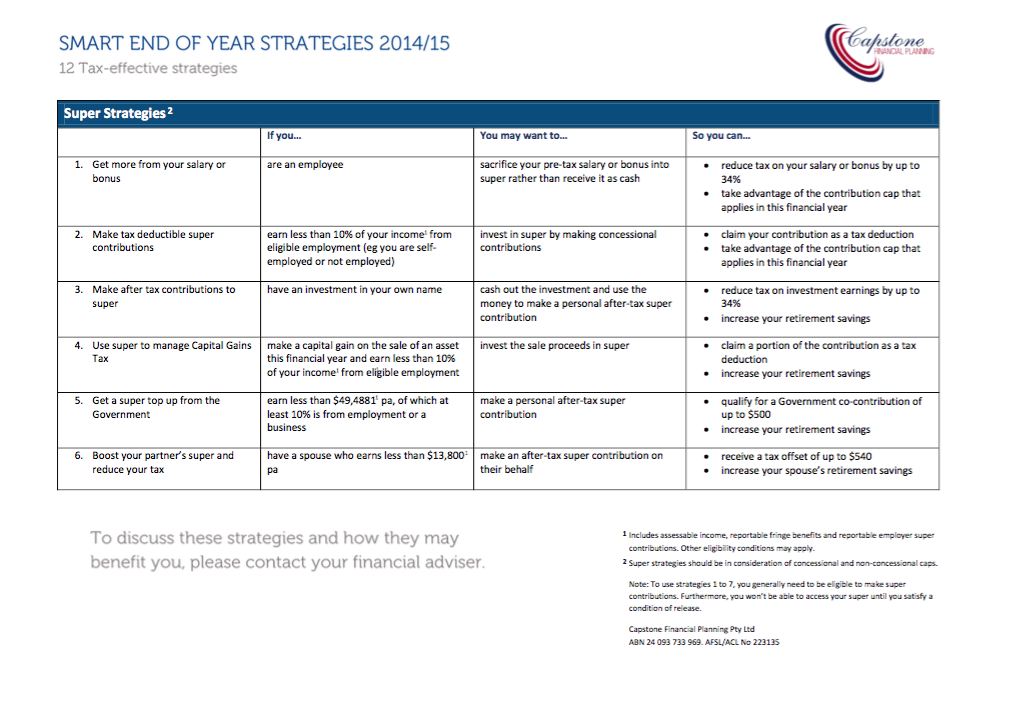 The month of May also saw the Reserve Bank of Australia cut the official cash rate from 2.25% to a new historical low of 2.00%. While most commentators expected this move, experts are divided on whether 2.00% will be the low point of this easing cycle or if there are more rate cuts to come.
The interest rate cut ensured that the Australian Dollar remained under pressure in May, with one Australian Dollar currently buying US76.45 cents. It hard to imagine now although this time last year one Australian Dollar was buying US94.26 cents – that's a fall of more than 18% in a year!
The fall in the currency is great news for exporters and the tourism industry... just not good news if you're planning a holiday particularly to the United States any time soon.
For more information please contact Ryan Love on 1300 856 338 or e-mail ryan.love@apexpartners.com.au.
This article is general information only and is not intended to be a recommendation. We strongly recommend you seek advice from your financial adviser as to whether this information is appropriate to your needs, financial situation and investment objectives.