After two consecutive months of decline, the Australian share market rebounded in March.
The All Ordinaries index gained by 4.1%, to close the month at 5,151.8 points. Nevertheless, the Australian share market remains some 3.6% lower for the calendar year (and volatility in daily returns remains high).
Global investment markets were all stronger in March. The US Dow Jones Index gained 7.1%, the London FTSE gained 1.3%, the Japan Nikkei 225 Index gained 4.6% and the Hong Kong Hang Seng Index gained 8.7% for the month.
One of the surprises in recent times has been the increase in value of the Australian dollar.  The chart below shows the performance of the currency over the first 3 months of the year. In March alone, the currency gained a staggering 7.3!!!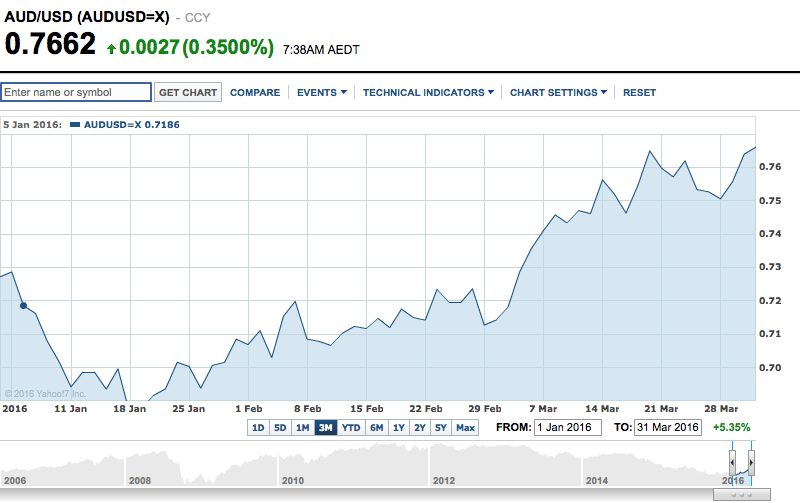 Source: Yahoo Finance
With the AUD/USD trading above 0.75 for the first time in over a year, many investors with international exposure are now experiencing a reduction in returns due to the currency.  The recent move higher from 0.71 to 0.76 has been driven by a combination of events:
Stronger domestic data which has pushed out the market's view on interest rate cuts beyond the middle of the year,
The recent bounce in commodity prices and risk assets, and
The US Federal Reserve appearing slightly more cautious than the market had anticipated (by removing the potential number of interest rate hikes from four to two in 2016).
Although it is not possible to rule out that the Australian Dollar could trade higher in the short term, there are still longer term headwinds in play...
The Australian economy is still transitioning from the mining boom and the market believes that the economy will require a further boost from the Reserve Bank at some stage, and at the same time the US is removing stimulus (albeit at a slow pace).
These longer term factors should keep a lid on the Australian Dollar (unless commodity prices manage a sustained rebound, which is considered unlikely due to China's demand expectations reducing).
The RBA board meet on Tuesday next week to review interest rates. In March, the RBA Cash Rate remained at 2.00% per annum with expectations that the same will occur next week.
For more information please contact Ryan Love or Michael Clapham on 1300 856 338.
This article is general information only and is not intended to be a recommendation. We strongly recommend you seek advice from your financial adviser as to whether this information is appropriate to your needs, financial situation and investment objectives.