Despite further lockdown and the spread of the COVID-19 delta variant, the Australian share market managed to record gains in the month of July, with the All-Ordinaries index closing the month 1.0% higher at 7,664.2 points. 
The Reserve Bank of Australia (RBA) held the official Cash Rate at 0.10% per annum in July, with no change expected once again when the RBA board meet tomorrow.  The Australian Dollar continued its recent trend falling by 2.0% in July (after falling by 3.2% in June), with 1 Australian Dollar currently buying 73.46 US cents. 
Global share markets provided mixed results in the month, with Asian markets experiencing significant declines in value.  For the month of July, the United States Dow Jones index gained by 1.3%, the London FTSE fell by 0.1%, the Japan Nikkei 225 fell by 5.2% and the Hong Kong Hang Seng Index fell by 9.9%.
Despite the lockdown measures imposed in greater Sydney at the end of June, to-date, these measures have been unable to control the spread of the COVID-19 delta variant as shown in the chart below.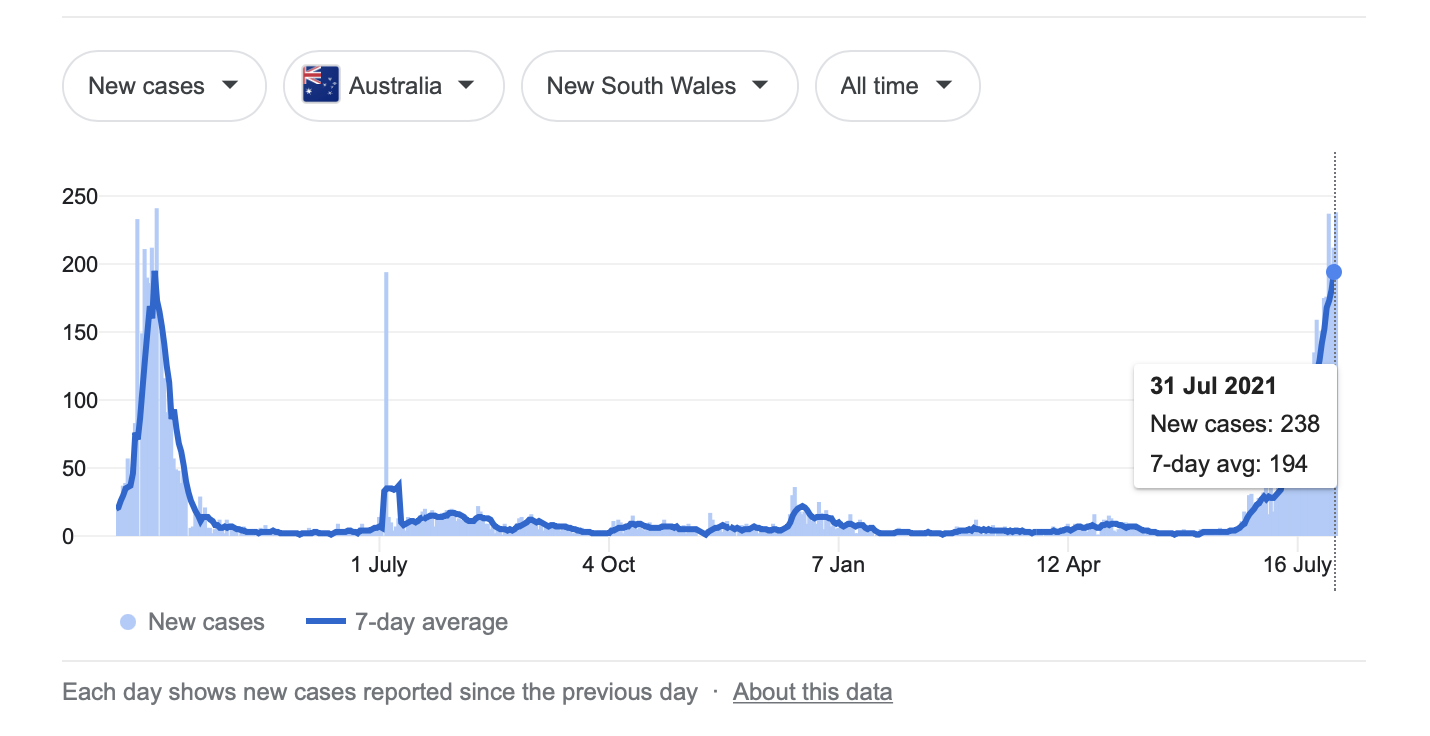 Source: Google
New South Wales has announced an extension of the lockdown measures for Greater Sydney until the end of August.  Whether this will be effective in eliminating the spread of the virus remains to be seen however, it "buys some time" to enable the vaccination rate to improve.
Nevertheless, it will be a tough call for the New South Wales government at the end of this month to "re-open" the economy unless the spread of the virus has been eliminated (which, based on the above chart, does seem unlikely at present). 
Despite an increasing vaccination rate, still only around 15% of the Australian population are fully vaccinated (33% of the population have received at least their first dose).  The aspirational goal of 70% of the population being fully vaccinated before ending lockdowns seems a long way off for those in greater Sydney. 
For more information, please contact Ryan Love on 1300 856 338.
This article is general information only and is not intended to be a recommendation. We strongly recommend you seek advice from your financial adviser as to whether this information is appropriate to your needs, financial situation and investment objectives.