The Australian share market was once again subdued in July, with the All Ordinaries index closing the month 0.2% higher at 5,773.9 points. The Australian Dollar rallied by 4.1% in July, with 1 Australian Dollar currently buying 80.01 US cents.
Once again, the Reserve Bank of Australia (RBA) left the official Cash Rate on hold at 1.50% per annum.
Global share markets provided mixed returns in July. The United States Dow Jones index gained 2.5%, the London FTSE gained 0.8%, the Japan Nikkei 225 fell 0.5% and the Hong Kong Hang Seng index gained 6.1% for the month.
With the Australian Dollar increasing above 80 US cents, it is worth asking the question: Is the Australian Dollar too high?
The rally in the Australian Dollar comes on the back of a sharp rebound in the "terms of trade" as shown below.
The resilience of Chinese steel production in the past year, reflecting continued strength in home building and infrastructure projects, has been a major factor in the terms of trade rebounding. Whether this is sustainable is unclear.
It is notable that the Australian Dollar has rallied over the past year, despite the fact that short-term interest rate differentials between Australia and the United States have narrowed further (with three interest rate increases by the US Federal Reserve).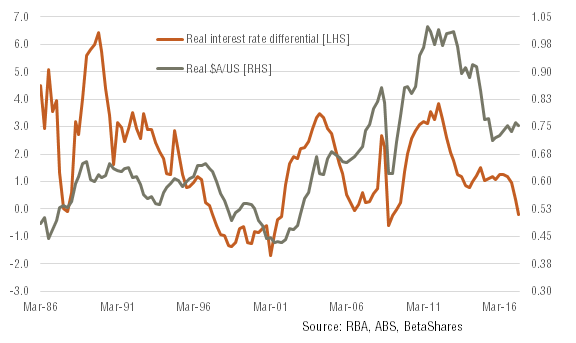 Given that interest rate differentials have had little impact on the currency over the last year, it is the direction in commodity prices that seems to matter most for the Australian Dollar. Over at least the short-term, that makes forecasting especially difficult given the volatility evident in iron ore prices.
That said, to have an expectation that iron ore supply will continue to rise, while Chinese demand is expected to moderate, makes it very hard to see the Australian Dollar rising from its current levels.
Most economists expect Chinese iron ore demand to decline throughout the second half of 2017 and during 2018, meaning that the terms of trade should fall. Based on recent evidence, this should mean that the Australian Dollar will decline also – perhaps even below the 70 US cents mark.
For more information, please contact Ryan Love or Michael Clapham on 1300 856 338.
This article is general information only and is not intended to be a recommendation. We strongly recommend you seek advice from your financial adviser as to whether this information is appropriate to your needs, financial situation and investment objectives.