Despite a surge in Covid cases due to the Omicron variant, the Australian share market posted a gain in the month of December.  The All-Ordinaries index closed the month 2.5% higher at 7,779.2 points.  For the 2021 calendar year, the All-Ordinaries index gained by 13.6% (excluding dividends).
The Australian Dollar was steady in the month, with one Australian Dollar currently buying 71.83 United States cents.  The Reserve Bank of Australia (RBA) once again held the official Cash Rate at 0.1% per annum in December (unchanged since August 2020) and do not meet in January.
Global share market values were generally positive in December (recouping losses from November), with the United States Dow Jones index gaining by 5.4%, the London FTSE gaining by 4.5% and the Japan Nikkei 225 gaining by 3.5%.  The Hong Kong Hang Seng index was the exception, falling by 0.3% for the month.
The chart below shows the annual calendar year price return in the All-Ordinaries index from 2010 to 2021.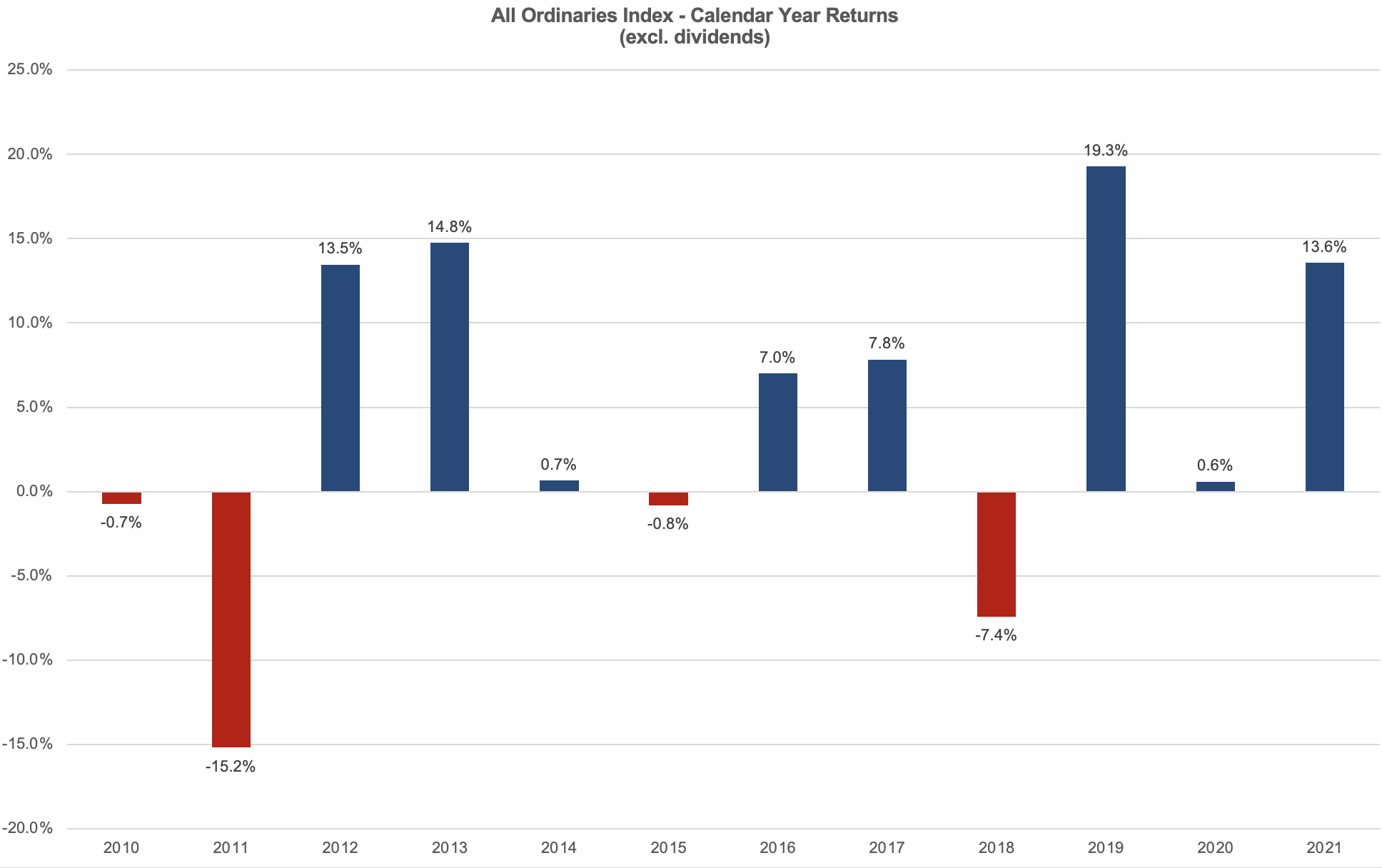 Source: Yahoo Finance, Apex Partners
Over the past 12 years, there have been 4 calendar years whereby the annual price return in the All-Ordinaries index has been negative.  Of these, only two were greater than a 1% negative return, and only one was greater than an 8% negative return. 
Looking at the returns over the chart period, the All-Ordinaries index has gained by just under 60% (excluding dividends), despite the first 2 years being negative for the Australian share market.
As we enter the New Year, notwithstanding the rapid spread of the Omicron Covid variant, the key factor that will impact investment markets in my view will be inflation.  In particular, how central banks around the world look to deal with this throughout 2022 and beyond. 
The United States Federal Reserve effectively indicated in December that there would be 3 interest rate rises in the United States in 2022, compared to market expectations of only 2.  The Bank of England surprised markets by electing to increase United Kingdom interest rates in December.  Whereas the European Central Bank (like the RBA) still thinks it will not raise interest rates in 2022.
We have already seen global share markets react poorly to any surprise change in monetary policy (from the United States Federal Reserve most notably).  Therefore, this will certainly be something to watch in 2022.
For more information, please contact Ryan Love on 1300 856 338.
This article is general information only and is not intended to be a recommendation.  We strongly recommend you seek advice from your financial adviser as to whether this information is appropriate to your needs, financial situation and investment objectives.