An extension of lockdown measures in Sydney and Melbourne did not prevent another positive month for the Australian Share market.  For the month of August, the All-Ordinaries index closed the month 2.1% higher at 7,823.3 points. 
The Reserve Bank of Australia (RBA) held the official Cash Rate at 0.10% per annum in August (unchanged since August last year), with no change expected when the RBA board meet next week. 
The Australian Dollar continued its recent trend falling by 0.4% in August (despite a slight recovery late in the month), with 1 Australian Dollar currently buying 73.15 US cents.  The Australian dollar has now declined by 5.6% since the end of May.
Global share market results were generally positive in August, with the United States Dow Jones index gaining by 1.2%, the London FTSE gaining by 1.2%, the Japan Nikkei 225 gaining by 4.0% and the Hong Kong Hang Seng Index falling by 0.3% for the month.
The spread of the COVID-19 delta variant in New South Wales in particular, and in Victoria to a lesser extent, appears to have provided the impetus for an increase in the vaccination rate of the adult Australian population as shown below.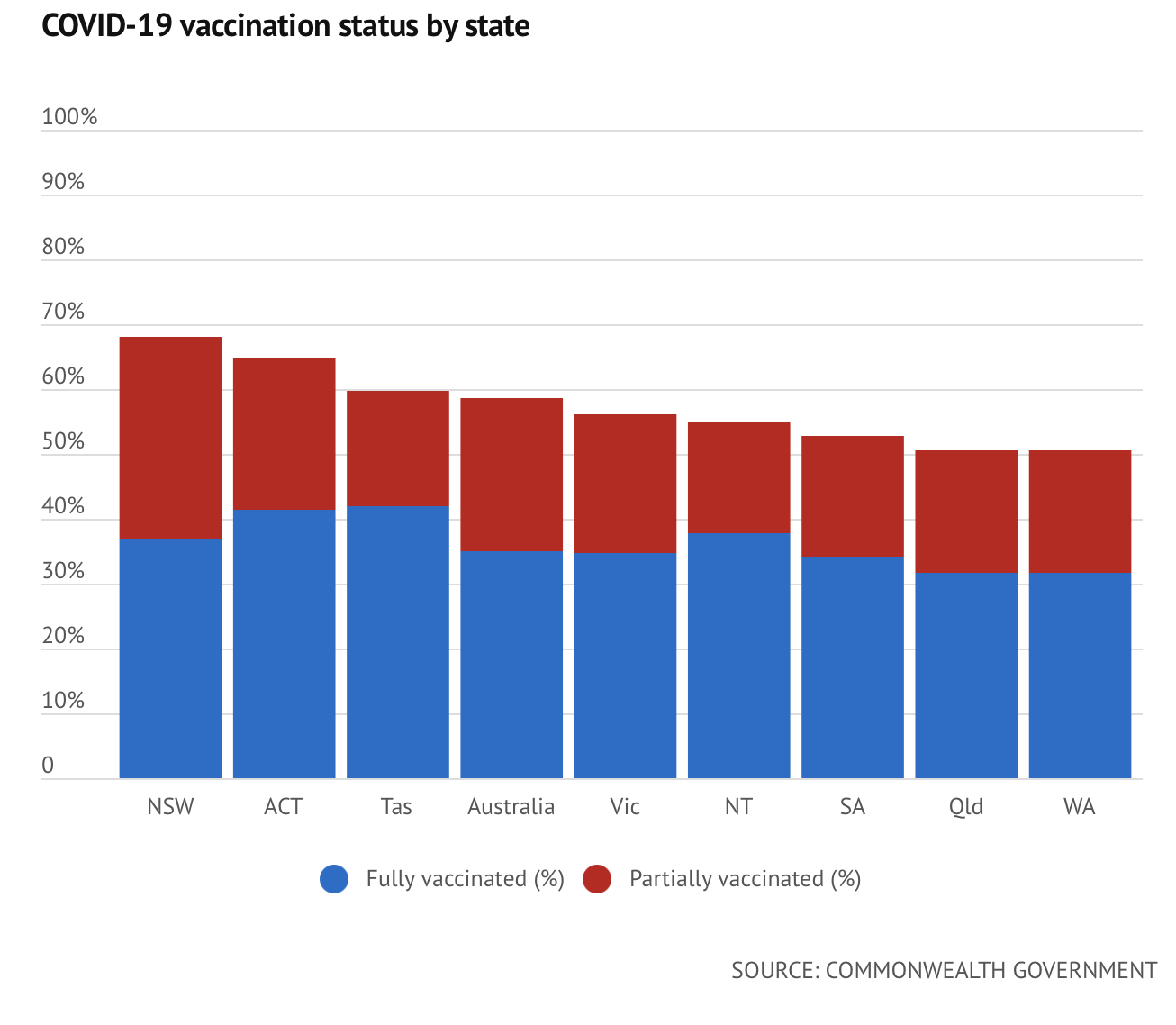 The path to a "COVID" normal life now seems to be to have 70% to 80% of the adult population fully vaccinated, for New South Wales at least.  Other state leaders appear to be less certain about this approach, despite allegedly agreeing to this as part of National Cabinet discussions.
One benefit that Australia has is the ability to observe the Northern Hemisphere nations approach to easing restrictions and living with "COVID" in the community.  Of particular interest will be the winter months in the Northern Hemisphere.  Fingers crossed that the transmission rate does not spike out of control through the Northern Hemisphere winter, as any further lockdown restrictions to the Northern Hemisphere nations will most likely cause a negative "shock" to investment markets.
This article is general information only and is not intended to be a recommendation. We strongly recommend you seek advice from your financial adviser as to whether this information is appropriate to your needs, financial situation and investment objectives.