The Australian share market retreated in the month of September, with the All Ordinaries index closing the month 1.6% lower at 6,325.5 points. The Australian Dollar gained marginally by 0.6% in September, with 1 Australian dollar currently buying 72.31 US cents.
Unsurprisingly, the Reserve Bank of Australia (RBA) board kept the official Cash Rate on hold at 1.50% per annum. The RBA board is expected to keep the Cash Rate on hold once again in October.
Global share market returns were generally positive in September, with the United States Dow Jones Index gaining by 1.9%, the London FTSE gaining by 1.0%, the Japan Nikkei 225 gaining by 5.5% and the Hong Kong Hang Seng Index falling by 0.4% in the month.
In late September the Hayne Royal Commission interim report was released, highlighting that "greed drove banking culture". The chart below shows the share price performance of major Australian banks throughout the Royal Commission.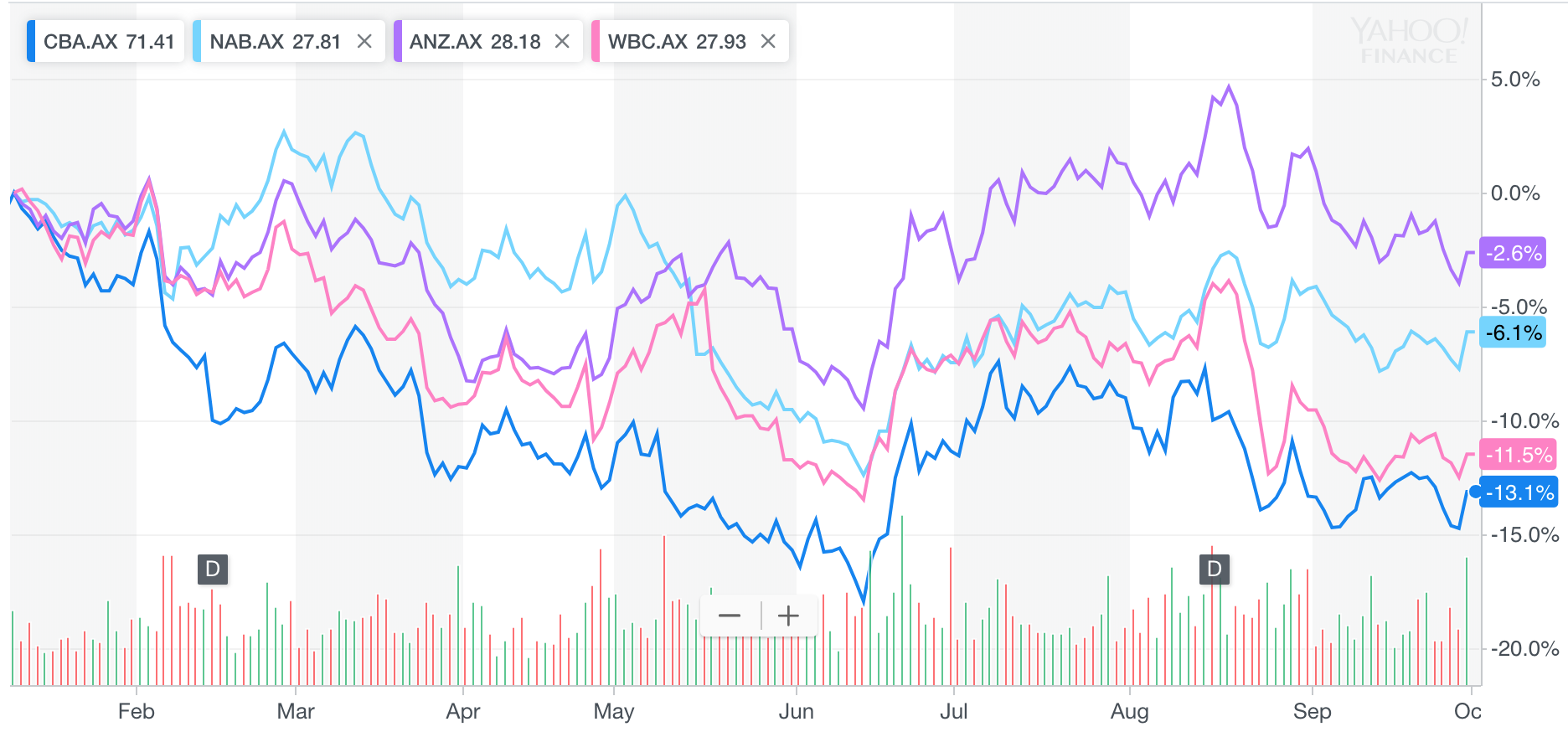 Source: Yahoo Finance
As highlighted above, all major banks have fallen in value over this period of time. What is of interest from the interim report is that Commissioner Hayne wrote in the executive summary "even when misconduct was exposed there was rarely any significant punishment by the regulator ASIC".
"Much more often than not the conduct now condemned was contrary to the law. This does raise the question if new laws are required or if existing laws need to be better enforced. Should the existing law be simplified rather than adding an extra layer of legal complexity to an already complex regulatory regime?"  asked Commissioner Hayne.
The public is invited to respond to Commissioner Hayne's interim report and the due date for submissions is 26 October 2018. However, it appears as though one of the core recommendations will be to provide far greater resources for the regulator to enforce the law.
For more information, please contact Ryan Love on 1300 856 338.
This article is general information only and is not intended to be a recommendation. We strongly recommend you seek advice from your financial adviser as to whether this information is appropriate to your needs, financial situation and investment objectives.