Renewed optimism surrounding a United States – China trade deal saw the Australian share market close higher for the month of November.  For the month, the All Ordinaries index gained by 2.6% to close at 6,948.0 points.   
The Australian Dollar gave-back most of its prior monthly gains, decreasing in value by 1.8% in November, with 1 Australian Dollar currently buying 67.63 US cents.   
The Reserve Bank of Australia (RBA) kept the official Cash Rate on hold at 0.75% per annum.  The RBA board meets again on Tuesday, with interest rates tipped to remain on hold.
Global share markets, with the notable exception of Hong Kong due to political unrest, were higher in November.  The United States Dow Jones index gained by 3.7%, the London FTSE gained by 1.4%, the Japan Nikkei 225 gained by 1.6% and the Hong Kong Hang Seng fell by 2.1%.
There appears to be a new phenomenon for the retail sector, with mass marketing around "black Friday" and "cyber Monday" sales in the lead up to Christmas.  While the origins of these sales are in the United States and post the Thanksgiving holiday, they certainly have made their way to Australian retailers.
As indicated in the chart below (which compares year-on-year retail sales results), the data suggests that the retail sector is struggling.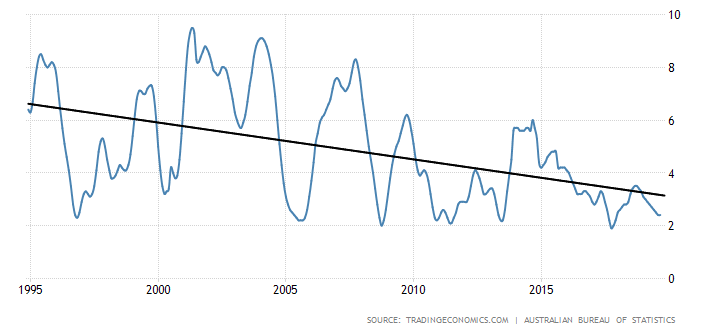 The trend-line in the above chart shows a clear decline in retail sales growth.  With this in mind, it is no wonder that retailers are latching onto these sales events in an effort to boost sales. 
The retail sector is an important player in the Australian economy.  I note that it accounts for nearly 10% of the labour market.  In this context, it is an important sector to monitor when forming a view about the growth prospects for the Australian economy (notwithstanding how annoying the marketing around these sales events may seem to some).
For more information, please contact Ryan Love on 1300 856 338.
This article is general information only and is not intended to be a recommendation. We strongly recommend you seek advice from your financial adviser as to whether this information is appropriate to your needs, financial situation and investment objectives.