Investment markets consolidated recent gains in the month of May.  The benchmark All Ordinaries index for the Australian share market gained by 4.9% in the month, closing May at 5,872.2 points.   
The Australian Dollar also continued to increase in value, gaining by 2.7% in May, with 1 Australian Dollar buying 66.63 US cents.  The Reserve Bank of Australia (RBA) kept the official Cash Rate at 0.25% per annum.  The RBA board is due to meet again on Tuesday.
Global share markets were generally higher in May, with the United States Dow Jones index gaining by 4.3%, the London FTSE gaining by 3.0% and the Japan Nikkei 225 gaining by 8.3%.  The exception was the Hong Kong market whereby the Hang Seng Index fell by 6.8% for the month.
Recent gains in investment markets have come as advanced economies have "flattened the curve" in relation to the spread of Coronavirus as demonstrated below.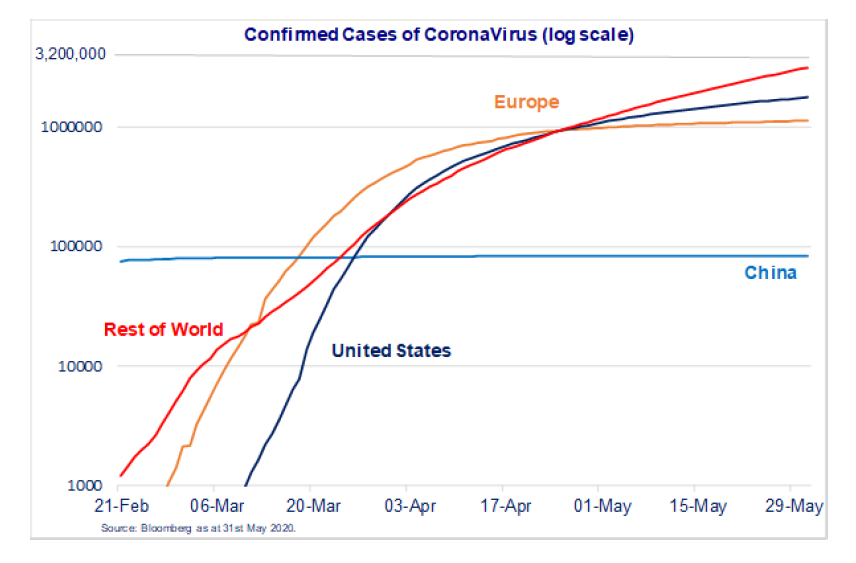 The test over the coming weeks will be if the spread of the virus will be contained as economies start to resume normal economic activity.  Should any advanced economies need to go back into shut-down measures, then investments markets will most likely fall sharply.
As we enter June, it is an important time of the year to consider tax-planning strategies.  Just a reminder that effective from 1 July 2017, individuals can now make their own personal tax-deductible contributions to superannuation (subject to meeting the eligibility criteria).
The limit for tax-deductible contributions to superannuation is generally $25,000 in a financial year (and this limit is inclusive of any employer superannuation guarantee payments).  However, under new legislation that came into effect from 1 July 2019, if you didn't utilise all of your $25,000 limit in the 2018/19 financial year, you can "carry forward" and apply the "unused portion" of your limit in this current 2019/20 financial year.
The above changes to the concessional contribution limit, coupled with the potential to access superannuation on a "tax-free basis" early for certain people under the COVID-19 early release rules, may present a unique planning opportunity this financial year.
For more information, please contact Ryan Love on 1300 856 338.
This article is general information only and is not intended to be a recommendation. We strongly recommend you seek advice from your financial adviser as to whether this information is appropriate to your needs, financial situation and investment objectives.