The Australian share market finished the 2019 financial year on a positive note.   The All Ordinaries index gained by 3.2% in June to close the month at 6,699.2 points.   The Australian Dollar gained by 0.9%, with 1 Australian Dollar currently buying 70.00 US cents.   
As widely expected, the Reserve Bank of Australia (RBA) board cut the official Cash Rate to 1.25% per annum in June.  Expectations are now that the RBA will make two more cuts to the Cash Rate this year, with some even expecting a rate cut following their board meeting on Tuesday this week.
Global share markets reversed their poor performance from May, with solid gains recorded across all major markets.  For the month of June, the United States Dow Jones index gained by 7.2%, the London FTSE gained by 3.7%, the Japan Nikkei 225 gained by 3.3% and the Hong Kong Hang Seng gained by 6.1%.
While the June 0.25% per annum cut in the RBA Cash Rate appeared necessary to support the declining housing market, it is interesting to now compare interest rates between Australia and the United States.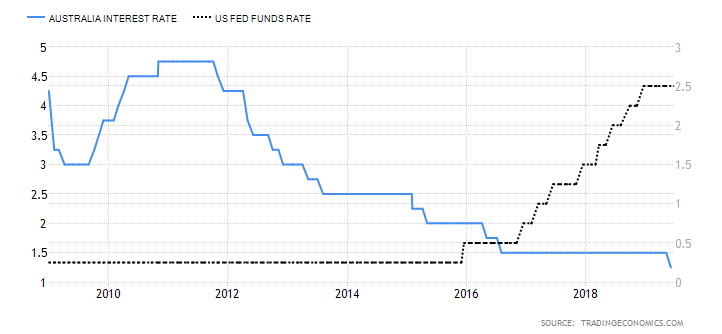 Source: Tradingeconomics.com
The above chart shows the trend in the Australian RBA cash rate in comparison to the United States Fed Funds Rate over the last 10 years.  What is of significance is the fact that Australian interest rates are in steady decline, notwithstanding a decade of economic growth!
Clearly, with the RBA Cash Rate at 1.25% per annum, the RBA board has less scope to use further interest rate cuts to simulate the economy – in the same way that the cuts from 4.75% per annum in 2011/2012 to 1.25% per annum today have done. 
The Federal Reserve in the United States had to implement unconventional measures to increase the money supply (referred to as "Quantitative Easing") following the Global Financial Crisis.  Perhaps it is not inconceivable that the RBA Board will need to implement similar measures in the event that Australian economic conditions deteriorate.
On a positive note is that Sydney and Melbourne property market results from the month of June indicate a modest turnaround in house prices.  While it is early days, given the reliance of the Australian economy to housing, construction and retail, this is welcome news.
For more information, please contact Ryan Love on 1300 856 338.
This article is general information only and is not intended to be a recommendation. We strongly recommend you seek advice from your financial adviser as to whether this information is appropriate to your needs, financial situation and investment objectives.