Against the backdrop of a second wave of Coronavirus outbreak centred in Melbourne, the Australian share market finished the month of July flat, with the All Ordinaries index closing the month 0.9% higher at 6,058.3 points.
The Australian Dollar continued its recent trend, gaining by 4.2% in July (after gaining 2.9% in June), with 1 Australian Dollar buying 71.43 US cents.  The Reserve Bank of Australia (RBA) kept the official Cash Rate at 0.25% per annum, with the RBA board scheduled to meet again tomorrow with no change expected.
Global share markets were mixed in July, with the United States Dow Jones index gaining by 2.4%, the London FTSE falling by 4.4%, the Japan Nikkei 225 falling by 2.6% and the Hong Kong Hang Seng Index gaining by 0.9% for the month.
Late in the month, the first estimate of the United States' June quarter economic growth results was received.  The results detailed a record 9.5% contraction in the United States' economy over the quarter (exceeding the previous period record contraction from 1958).
The cause of the contraction was led by a contraction in personal consumption (down 34.6% from the previous quarter) as shown in the chart below.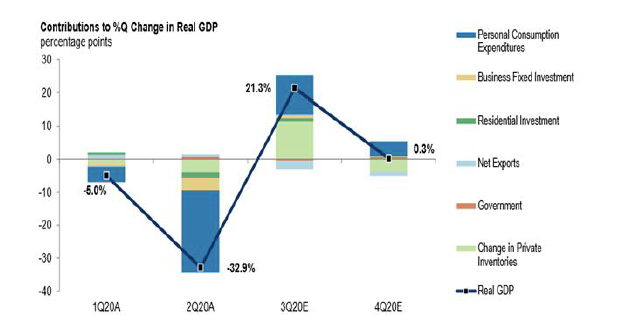 Source: Perpetual
As noted in the above chart, for the September quarter, it is expected that personal consumption will rebound in the United States – with forecasts for United States' economic growth to be as high as 5.5% for the September quarter.
Personal consumption expenditure is driven by consumer confidence, and also the ability for businesses to operate on an unrestricted basis.  What is interesting when looking at the United States is that they never "flattened their curve" before reopening their economy. 
This means that the United States economic opening has not been associated with lower Coronavirus case numbers (and perhaps explains why the total Unites States Coronavirus deaths amount to more than 155,000 people as of the time of writing).
For Australia, as we know from the further round of restrictions for Melbourne announced over the weekend, the ability for all of us to control the spread of Coronavirus will determine when our economy can rebound – and we too can then expect a period of economic growth to return.
For more information, please contact Ryan Love on 1300 856 338.
This article is general information only and is not intended to be a recommendation. We strongly recommend you seek advice from your financial adviser as to whether this information is appropriate to your needs, financial situation and investment objectives.