It was another strong month of performance for the Australian share market, with the All Ordinaries index gaining by 2.9% in July to close the month at 6,896.7 points.   The Australian Dollar fell by 2.1%, with 1 Australian Dollar currently buying 68.50 US cents.   
Once again, the Reserve Bank of Australia (RBA) board cut the official Cash Rate by 0.25% per annum.  The Cash Rate now stands at 1.00% per annum.
Global share markets were generally positive in July, with the United States Dow Jones index gaining by 1.0%, the London FTSE gaining by 2.2%, the Japan Nikkei 225 gaining by 1.2% and the Hong Kong Hang Seng falling by 2.7%.
The election of Boris Johnson as the UK's new Prime Minister in the month has heightened Brexit concerns.  Johnson has vowed to strike a "better deal" with the European Union than achieved by former PM, Theresa May, even at the risk of a "no-deal" exit later this year. 
To date, the UK economy (and share market) has held up reasonably well despite lingering Brexit uncertainty as demonstrated in the chart below.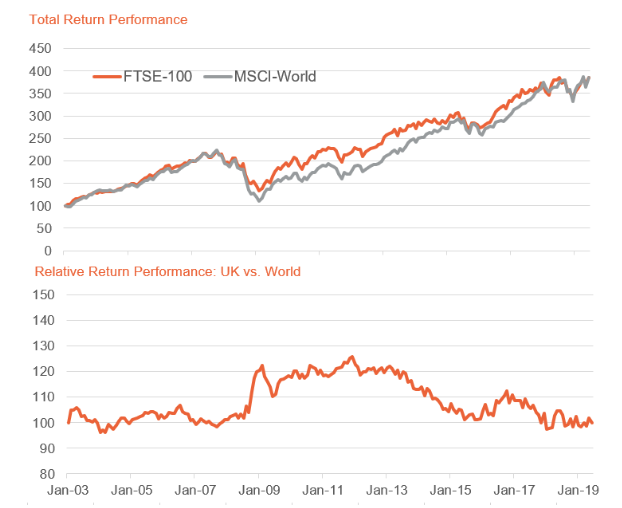 Source: Bloomberg
Notwithstanding the above performance, more recent indicators such as UK factory orders, have weakened.  If the UK's exit from the European Union is not smooth, or if the current uncertainty persists for an extended period, the risk of a near-term recession in the UK would clearly grow.
Either way, it should be noted that a potential UK economic downturn in the short term may not impact the broader global economy.  This is because the UK's economy accounts for only 2.50% of global economic growth.
For more information, please contact Ryan Love on 1300 856 338.
This article is general information only and is not intended to be a recommendation. We strongly recommend you seek advice from your financial adviser as to whether this information is appropriate to your needs, financial situation and investment objectives.