The Australian share market consolidated recent gains in July, with the All Ordinaries index closing the month 1.2% higher at 6,366.2 points. The Australian Dollar was steady, with 1 Australian dollar currently buying 74.07 US cents.
Unsurprisingly, the Reserve Bank of Australia (RBA) board kept the official Cash Rate on hold at 1.50% per annum last  month. The RBA board is expected to keep the Cash Rate on hold when they meet in August.
Global share markets returns were generally positive.  The United States Dow Jones index gained by 4.7%, the London FTSE gained by 1.5%, the Japan Nikkei 225 gained by 1.1% and the Hong Kong Hang Seng Index fell by 1.3% in the month.
Property market data released by CoreLogic RP Data in July shows that the Sydney property market fell by 4.5% over the year to 30 June 2018.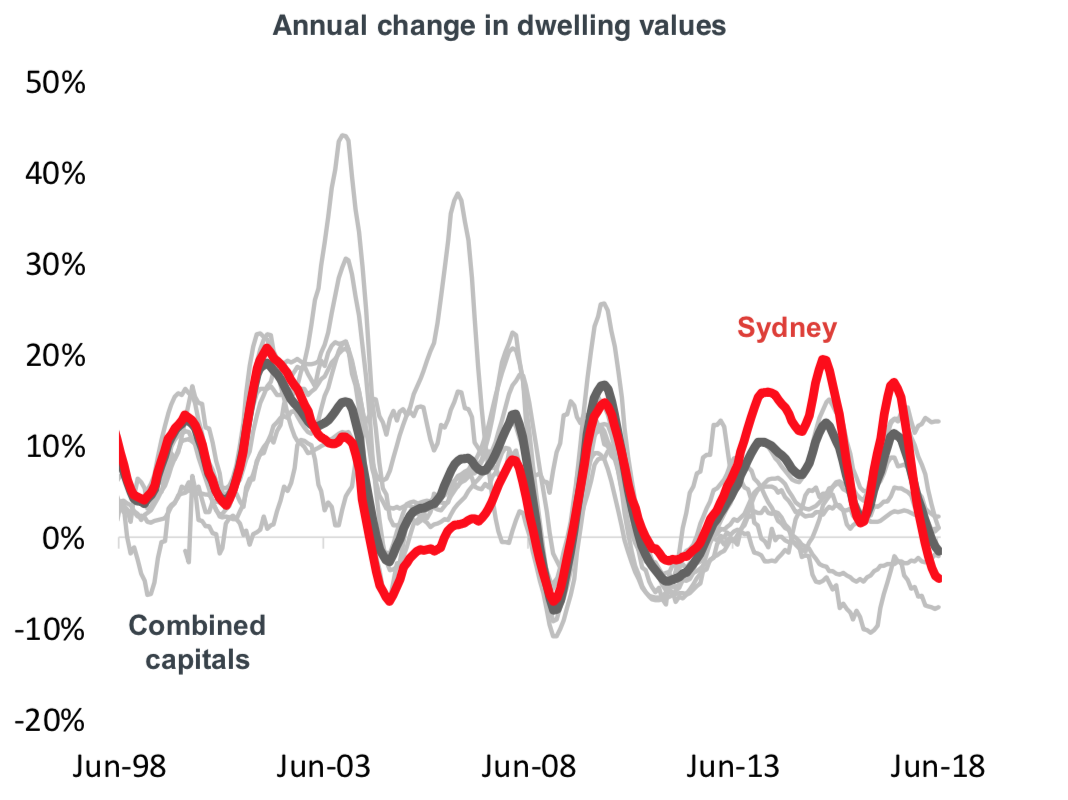 Source: CoreLogic
As shown in the above chart, this is the first time in several years that the Sydney property market has retreated in value. I note that the Melbourne and Brisbane property growth rates are in decline also. While many would argue that this has been long overdue, it does present a heightened level of risk for the Australian economy.
Stronger property values are generally good for an economy. It leads to a greater level of consumer confidence and a higher propensity for households to spend more capital on home improvements (which, in turn, helps those trade related industries and the economic benefits flow from there).
It also must be noted that, with Australian household debt at record levels, the impact of a decline in property values presents even a greater level of risk in comparison to previous downturns in the property market.
As I wrote last month, be careful what you wish for... Falling property values, an increase in apartment housing developments, rising bank funding costs (noting banks fund around 20% of their loan book offshore) and a Royal Commission leading to tighter lending standards, could be the perfect "cocktail" of events to spark a significant correction in property values.
Without sounding alarmist, it has probably never been more important for investors to focus on property values, and by extension bank lending practices and the RBA's policy settings. This is because it would be foolish to think that any major correction in Australian property values would not have an equally major impact to the Australian economy (and the Australian share market).
For more information, please contact Ryan Love on 1300 856 338.
This article is general information only and is not intended to be a recommendation. We strongly recommend you seek advice from your financial adviser as to whether this information is appropriate to your needs, financial situation and investment objectives.