The month of January saw a partial recovery in share market values, with the All Ordinaries index gaining by 4.0% to close the month at 5,937.3 points.  This is the first month of positive Australian share market returns since August last year.
The Australian Dollar gained by 3.1% in the month of January, with 1 Australian Dollar buying 72.71 US cents as at the end of the month.  The Reserve Bank of Australia board did not meet in January.
Global shares bounced back strongly in the month of January, with the United States Dow Jones index gaining by 7.2%, the London FTSE gaining by 3.6%, the Japan Nikkei 225 gaining by 3.8% and the Hong Kong Hang Seng Index gaining by 8.1%.
The United States' share market performance was the best January in three decades. This came on the back of strong corporate earnings, and the Federal Reserve indicating that it will pause interest rate increases.
Many commentators in the United States look to the January share market performance as a "barometer" of returns for the year ahead.  The chart below shows the annual return of the United States' share market following a positive January return.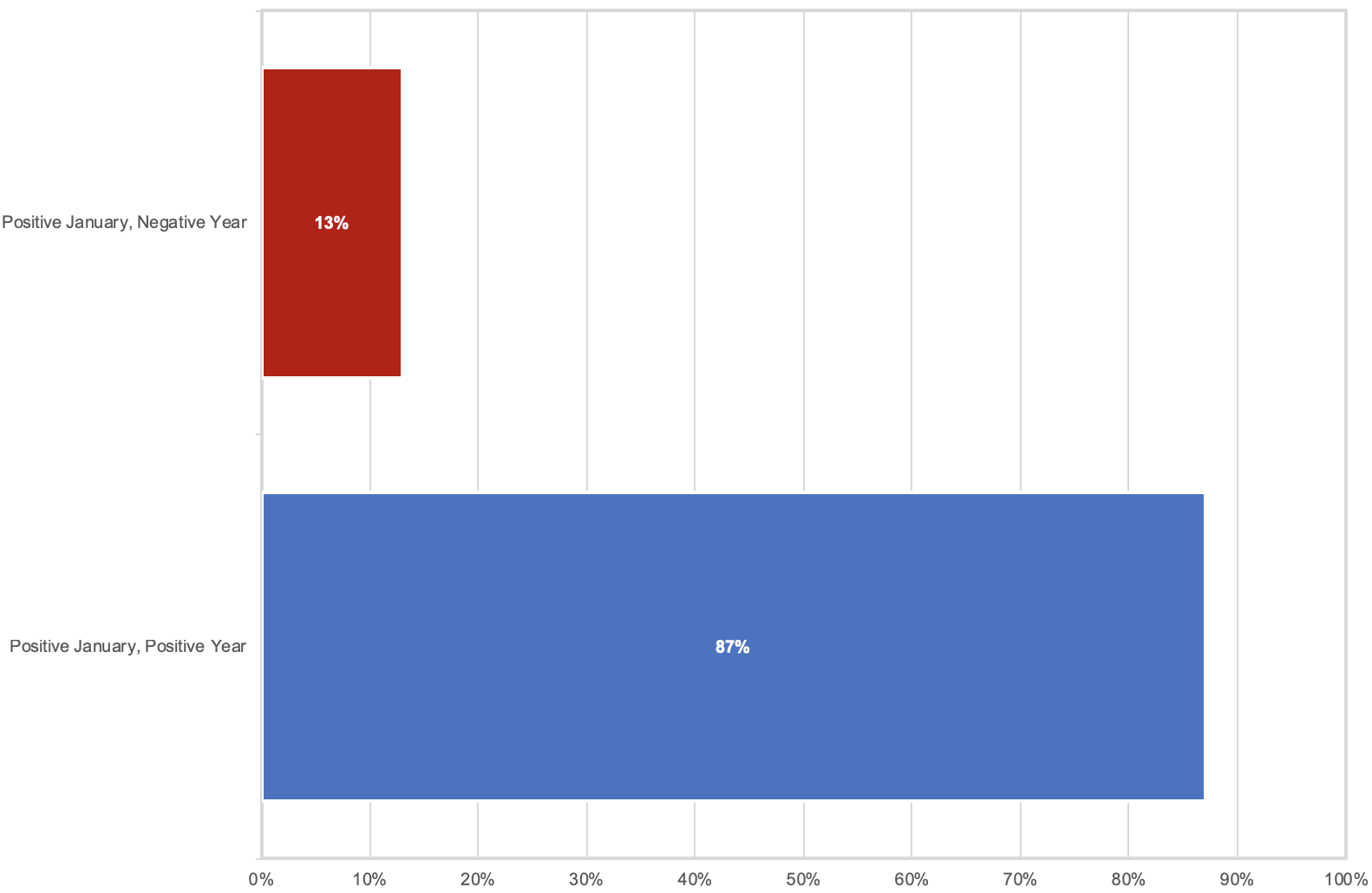 Source: cnbc.com
While history suggests that we should be in for a pretty good 2019, January last year was positive and the market suffered an unusual late-year sell off, wiping out all of the gains.
The logic of following January returns as a barometer is that, in January, large United States' investors and pension funds decide whether or not to put their money into shares for the new year. 
Personally, I am sceptical on the logic of focussing on one month to determine a year's outlook.  I think the odds were strong that United States' shares would bounce-back following a massive sell-off in December (centred largely around political influences). 
If a trade deal between United States and China can be reached, and with the Federal Reserve already indicating that they have paused (and may even stop) withdrawing their financial stimulus, I am bullish on the year ahead for United States' shares – and by extension all global share markets.
For more information, please contact Ryan Love on 1300 856 338.
This article is general information only and is not intended to be a recommendation. We strongly recommend you seek advice from your financial adviser as to whether this information is appropriate to your needs, financial situation and investment objectives.