As foreshadowed in last month's newsletter, the rapid spread of coronavirus has resulted in carnage across global investment markets – particularly late in the month as it became apparent that the spread of the virus was far from contained.
The Australian share market retreated sharply, with the benchmark All Ordinaries index falling by 8.6% to close the month at 6,511.5 points.  The Australian Dollar also continued its recent slide, falling by a further 3% in February, after also falling by 3% in January.  As it currently stands, 1 Australian Dollar buying 66.9 US cents. 
The Reserve Bank of Australia (RBA) kept the official Cash Rate on hold at 0.75% per annum in their February board meeting.  However, this policy stance may be short-lived.
Australia is likely to see negative economic growth of 0.1% this quarter due to the impact of the bushfires and the hit from the coronavirus, with Australia's economic reliance on China critical.  In this regard, exports to China make up nearly 9% of Australia's GDP! 
Given the above, many are now expecting the RBA to cut rates in response to these issues as early as their meeting on Tuesday this week.  In addition, several economists are calling on stimulus from the Federal Government's May budget to avoid a recession.
Global share markets were also all negative for the month of February, with the United States Dow Jones index falling by 10.1%, the London FTSE falling by 9.7%, the Japan Nikkei 225 falling by 8.9% and the Hong Kong Hang Seng falling by 0.7%.
It is important to note that we have experienced several viral outbreaks in the past, with the global share markets providing a strong recovery post containment of the outbreak as demonstrated in the chart below: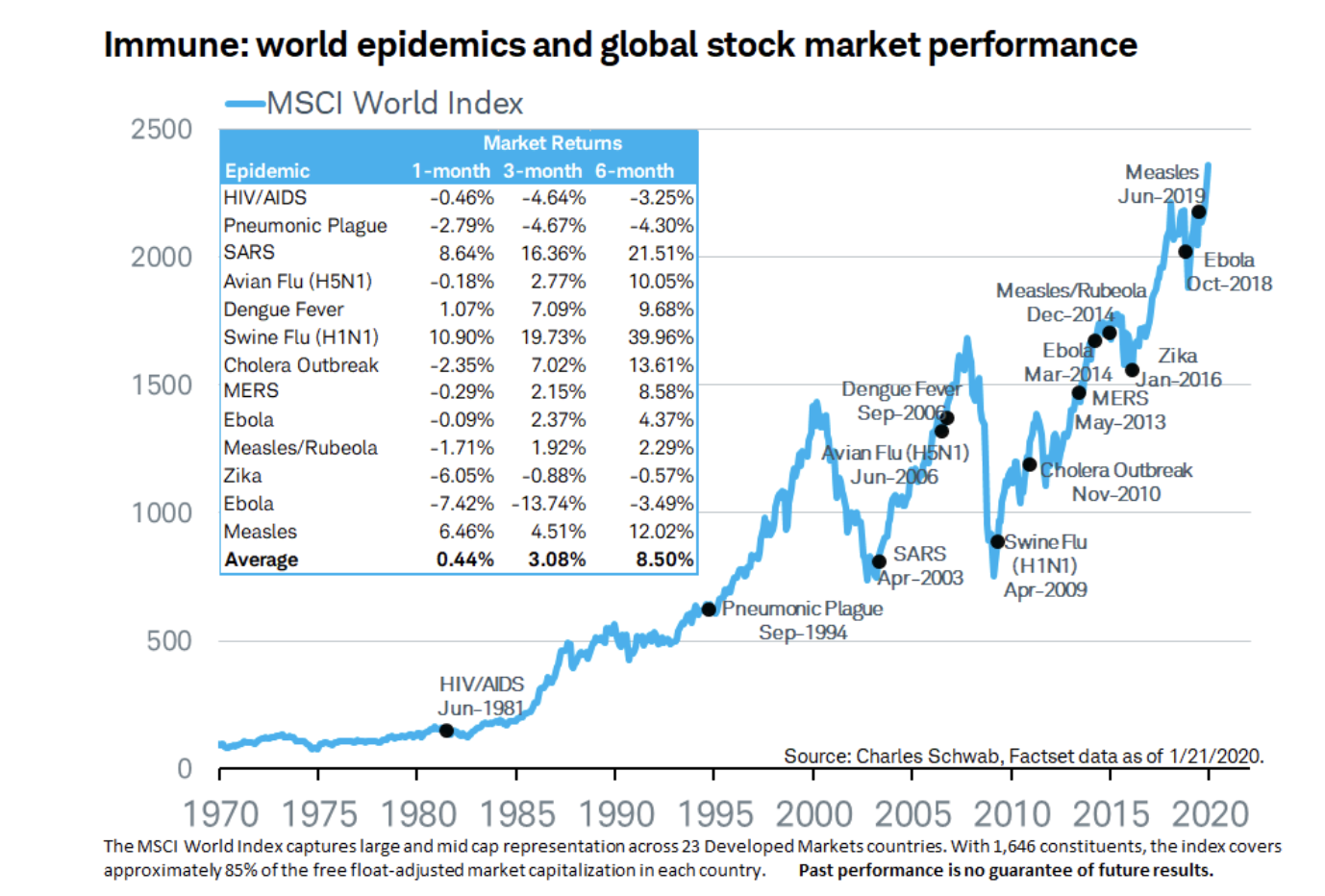 Source: https://www.marketwatch.com/
The severity of the coronavirus, ultimately, will dictate the market's reaction.  However, the above chart does assist in providing some perspective at a time whereby share market values have decreased suddenly.
Let's hope that the health authorities and governments around the world can contain the spread of the coronavirus swiftly, enabling the passage of people and trade to return to normal.
For more information, please contact Ryan Love on 1300 856 338.
This article is general information only and is not intended to be a recommendation. We strongly recommend you seek advice from your financial adviser as to whether this information is appropriate to your needs, financial situation and investment objectives.