The Australian share market declined in value in the month of December, with the benchmark All Ordinaries index falling by 2.0% to close the month at 6,810.0 points.  Notwithstanding the poor monthly result, 2019 will be remembered as a stellar year for Australian shares, with the benchmark index gaining by more than 19% in the 2019 calendar year.
The Australian Dollar briefly jumped back above 70.0 US cents late in December, before settling 2.2% higher for the month (with 1 Australian Dollar currently buying 69.1 US cents).  As expected, the Reserve Bank of Australia (RBA) kept the official Cash Rate on hold at 0.75% per annum.  The RBA board does not meet again until February.
Global share markets generated positive returns for the month of December.  The United States Dow Jones index gained by 1.7%, the London FTSE gained by 2.7%, the Japan Nikkei 225 gained by 1.6% and the Hong Kong Hang Seng gained by 7.0%.
As we enter the New Year, and decade, it is interesting to look back and see the performance of share markets over the last 10 years.   The chart below shows the return of a $10,000 investment across various global share market indices.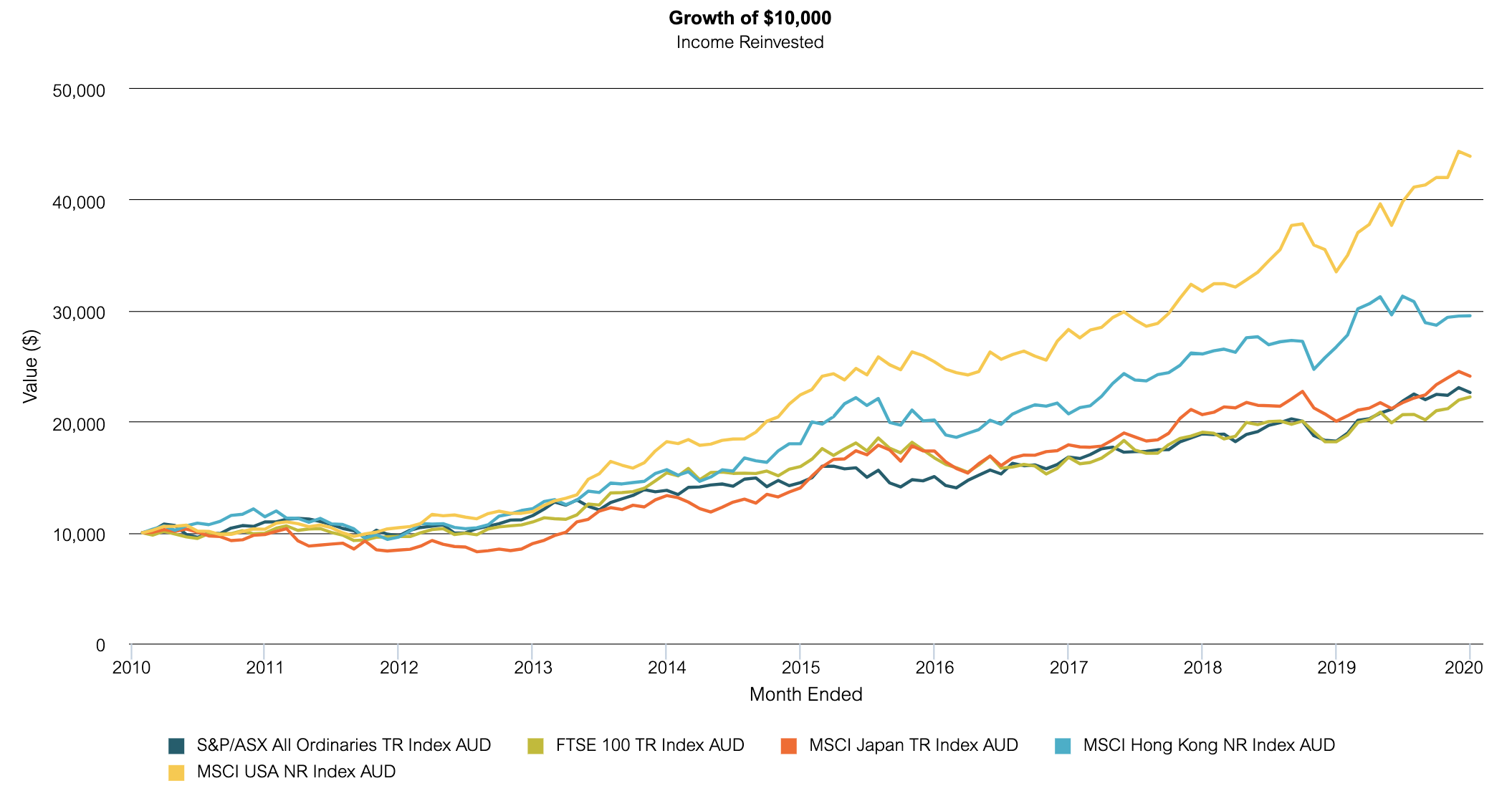 As shown in the chart above, US shares have been the best performing over the decade – increasing by more than 4 times in value over 10 years (when expressed in Australian Dollar terms).  That said, all major share markets have performed well over the last 10 years, more than doubling in value for the decade!
It appears that we are locked into a low interest rate and low inflation environment for the near term.  The low rates have the effect of pushing up asset values for all asset classes. 
Arguably, the benefit of low rates has been reflected in the increase in asset values over the last decade – meaning it is unlikely that the returns for the next 10 years will be like those experienced in the last decade in my view.
On a sombre note, the tragic bush fires experienced over the New Year period will have an impact on the Australian economy.  Initial estimates are that it will result in a 0.3% reduction in GDP for the Australian economy this year alone.  Nevertheless, the rebuild effort will be huge and, over time, it will provide an economic boost as the reconstruction of houses, businesses and infrastructure takes place.
My thoughts go out to all those impacted and I hope that you and your loved ones are all safe.
For more information, please contact Ryan Love on 1300 856 338.
This article is general information only and is not intended to be a recommendation. We strongly recommend you seek advice from your financial adviser as to whether this information is appropriate to your needs, financial situation and investment objectives.