It was a positive month for investment markets, with the All Ordinaries index closing the month 3.1% higher at 6,245.9 points.  The Australian share market followed the lead of global share markets despite the rising domestic Coronavirus cases.
The Australian Dollar continued its recent trend, gaining by 3.3% in August, with 1 Australian Dollar buying 73.9 US cents.  The Reserve Bank of Australia (RBA) kept the official Cash Rate at 0.25% per annum, with the RBA board scheduled to meet again today.
Global share markets all gained in the month, with the United States Dow Jones index gaining by 7.6%, the London FTSE gaining by 1.1%, the Japan Nikkei 225 gaining by 6.6% and the Hong Kong Hang Seng Index gaining by 2.4% for the month.
It is clear that low interest rates both in Australia and around the world are helping support growth asset values to recover from the impact of the Coronavirus pandemic.  The key to the future of interest rates will be the inflation rate as measured by the Consumer Price Index (CPI).
The RBA board maintains a policy target to keep inflation within a 2 to 3% band over the medium term.  Inflation has remained lower than the RBA would like for several years, and the Coronavirus pandemic has pushed inflation even lower as demonstrated below.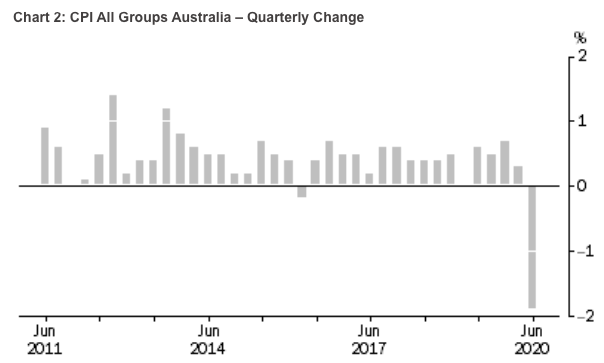 Source: ABS
The annualised Australian inflation rate in the June quarter fell to negative 0.3%.  This was the first annual decline in the CPI index since 1997.
The speed with which inflation rebounds over coming years (as the economy recovers) will heavily dictate the speed with which the RBA unwinds its current policy of very low level of interest rates.  If inflation fails to push much higher, it will increase the risk of the RBA adopting more unconventional means (such as negative interest rates to stimulate price growth).
With the current state of the Coronavirus pandemic, it is hard to see inflation increasing in the short-to-medium term.  Therefore, I expect low interest rates to remain and this ought to be factored into an investor's portfolio positioning.
For more information, please contact Ryan Love on 1300 856 338.
This article is general information only and is not intended to be a recommendation. We strongly recommend you seek advice from your financial adviser as to whether this information is appropriate to your needs, financial situation and investment objectives.