Investment markets settled in the month of April, with some optimism relating to containment of the spread of Coronavirus and effective government stimulus measures.
The benchmark All Ordinaries index for the Australian share market gained by 9.5% and closed the month at 5,597.7 points.   The Australian Dollar recovered its losses from March, ending April 6.0% higher with 1 Australian Dollar buying 64.89 US cents. 
The Reserve Bank of Australia (RBA) kept the official Cash Rate at 0.25% per annum.  The RBA has also implemented a bond buying program as it seeks to target a 3-year Australian Government bond rate of 0.25% per annum.
Global share markets all rallied in the month of April, with the United States Dow Jones index gaining by 11.1%, the London FTSE gaining by 4.0%, the Japan Nikkei 225 gaining by 6.7% and the Hong Kong Hang Seng gaining by 4.4%.
It is generally accepted that Australia has done a remarkable job at containing the spread of Coronavirus with the social distancing and "soft" lock-down measures.  However, since the peak of the share market in late February, the Australian share market has underperformed global markets and, in particular, the United States share market as demonstrated below.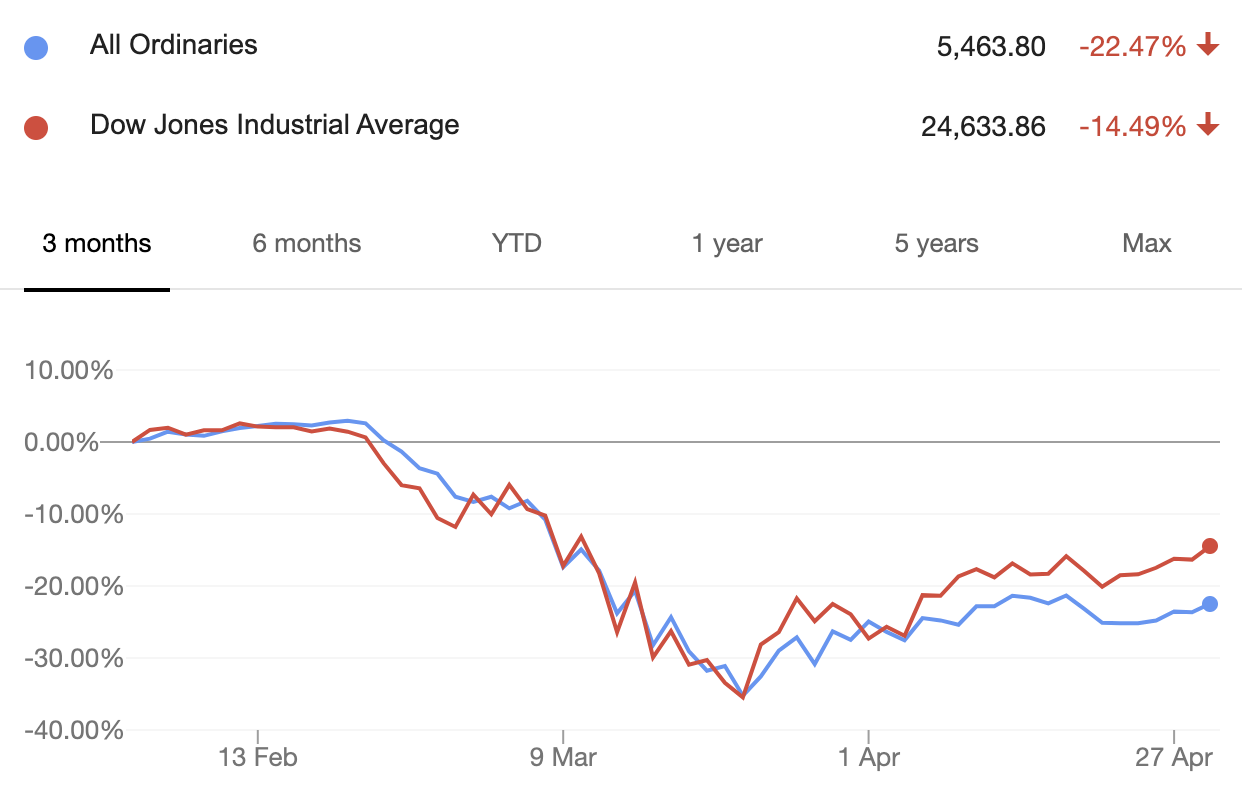 Source: google.com
It is not apparently clear as to why the Australian stock market has underperformed through this period.  One theory relates to the level of household debt in Australia relative to other developed markets (making the economy more vulnerable to a deep recession). 
Another theory relates to the early access to superannuation measures recently announced by the government.  As it currently stands, more than 950,000 people have requested access to over $7.9 billion of their superannuation funds under the federal government's Coronavirus hardship early release scheme. 
The resulting impact of the withdrawal in superannuation is the sale of fund assets to meet these withdrawals.  In this regard, aside from cash, listed Australian shares are the easiest and most liquid form of asset to sell.
As we look forward, there are clearly risks remaining in investment markets.  I expect volatility to remain extremely high as daily news on the spread of Coronavirus is digested, along with undoubtedly bleak corporate earnings results. 
If there can be a gradual reopening of the economy following national cabinet meetings over the coming weeks, then perhaps we can map out a path to a longer-term recovery.  For a full recovery, medical advancement in terms of a vaccine and/or medicine to treat Coronavirus is most likely required.
For more information, please contact Ryan Love on 1300 856 338.
This article is general information only and is not intended to be a recommendation. We strongly recommend you seek advice from your financial adviser as to whether this information is appropriate to your needs, financial situation and investment objectives.