The Australian share market had another relatively lacklustre month in September, with the All Ordinaries index closing the month down 0.5% at 5,744.9 points.
The Australian Dollar retreated by 1.3% in September, with 1 Australian Dollar currently buying 78.37 US cents. As expected, the Reserve Bank of Australia (RBA) left the official Cash Rate on hold at 1.50% per annum.
Global share markets provided mixed returns in August. The United States Dow Jones index gained 2.1%, the London FTSE fell 0.8%, the Japan Nikkei 225 gained 3.4% and the Hong Kong Hang Seng Index fell 2.4% for the month.
Housing data for the September quarter shows that housing price growth may be "losing steam" (as reflected in the figures in the table below).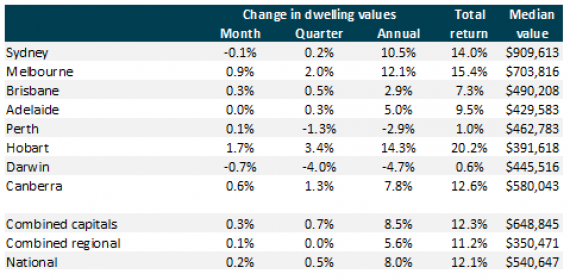 Source: Corelogic
The September quarter saw Sydney dwelling values edge 0.2% higher, although  values slipped by 0.1% lower over the month. Sydney's quarterly result was the slowest since values declined by 2.2% over the March quarter of 2016, and it's the first month-on-month decline after 17 months of consistent capital gains.
Interestingly, across the Sydney housing market, it was the detached housing sector that pulled the monthly and quarterly growth rates lower. While unit values are also appreciating at a slower rate, detached housing values were 0.3% lower over the month of September and 0.2% lower over the quarter while unit values recorded a subtle rise.
Melbourne's housing market is also showing slower growth conditions, however growth remains relatively resilient compared with Sydney. Dwelling values were almost 1% higher over the month of September and rose by 2.0% over the September quarter.
Hobart further cemented its position as the best performing housing market after a recent history of sluggish growth conditions. The past twelve months has seen Hobart dwelling values surge 14.3% higher – the highest annual growth rate since 2004. 
Despite the strong capital gains, the cost of housing in Hobart remains substantially lower than any other capital city with a typical house value of $412,340 and a median unit value of just under $320,000.
For more information, please contact Ryan Love or Michael Clapham on 1300 856 338.
This article is general information only and is not intended to be a recommendation. We strongly recommend you seek advice from your financial adviser as to whether this information is appropriate to your needs, financial situation and investment objectives.