The Australian share market managed to make a net gain in the month of October, however volatility increased late in the month, with further signs that COVID-19 is spreading unabated in the northern hemisphere, and political uncertainty with the United States election only a matter of days away. 
The All Ordinaries index closed the month 2.1% higher at 6,133.2 points.  The Australian Dollar continued to retreat, falling by 2.0% in October (after falling by 3.0% in September), with 1 Australian Dollar buying 70.2 US cents.  
The Reserve Bank of Australia (RBA) kept the official Cash Rate at 0.25% per annum in October, with the RBA board now widely expected to make a further modest rate cut when they meet again on Tuesday.
Global share markets were generally weaker in the month, with the United States Dow Jones index falling by 4.6%, the London FTSE falling by 4.9%, the Japan Nikkei 225 falling by 0.9% and the Hong Kong Hang Seng Index gaining by 2.8% for the month.
The Australian Federal Budget was handed down in October.  After going into a record deficit of $213.7 billion to support individuals and businesses during the COVID-19 crisis, the focus of this year's Federal Budget is to regrow the economy by creating job opportunities and encouraging spending.
Some key Budget announcements include bringing forward the income tax cuts that were scheduled for 2022, two additional support payments for Age Pension and welfare recipients of $250 from the end of November and February, a new 'JobMaker' scheme to encourage businesses to employ eligible people aged 16 to 35, and tax changes to help businesses offset their tax losses against past profits (as well as immediately write-off large capital purchases).
The following chart shows the tax cuts individuals are proposed to receive this financial year (2020/21) based on their income levels and current tax settings.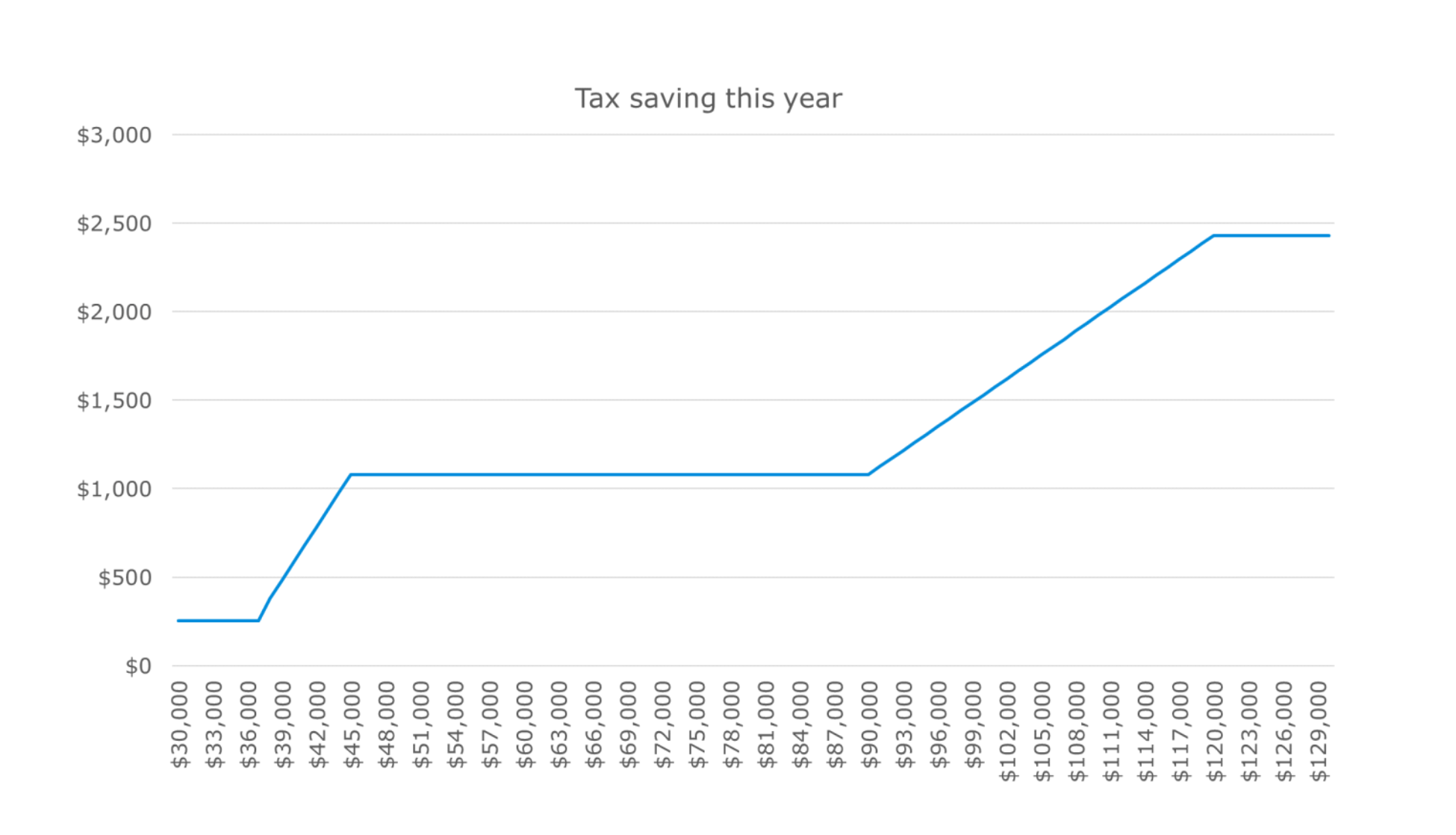 Source: Colonial First State
The Government made no announcements in relation to also bringing forward the effective date of the stage three tax cuts that were due to take effect from 1 July 2024.  Under these tax cuts, the 37% tax rate will be abolished, and the 32.5% tax rate will reduce to 30% and will apply from taxable income of $45,000 to $200,000.
Overall the Australian Federal Budget has been well received.  However, it will be the United States election set for 3 November, that will dominate markets attention in the short-term.
For more information, please contact Ryan Love on 1300 856 338.
This article is general information only and is not intended to be a recommendation. We strongly recommend you seek advice from your financial adviser as to whether this information is appropriate to your needs, financial situation and investment objectives.