After two consecutive months of flat returns, the Australian share market advanced strongly in October with the All Ordinaries index closing the month up 4.0% at 5,976.4 points.
The Australian Dollar retreated by 2.4% in October (after falling 1.3% in September), with 1 Australian Dollar currently buying 76.51 US cents. As expected, the Reserve Bank of Australia (RBA) left the official Cash Rate on hold at 1.50% per annum.
Global share markets also provided solid returns in October. The United States Dow Jones index gained 4.3%, the London FTSE gained 1.6%, the Japan Nikkei 225 gained 8.1% and the Hong Kong Hang Seng Index gained 3.0% for the month.
The Australian share market today has reached a milestone, with the All Ordinaries index breaking through 6,000 points for the first time in 10 years, as shown below.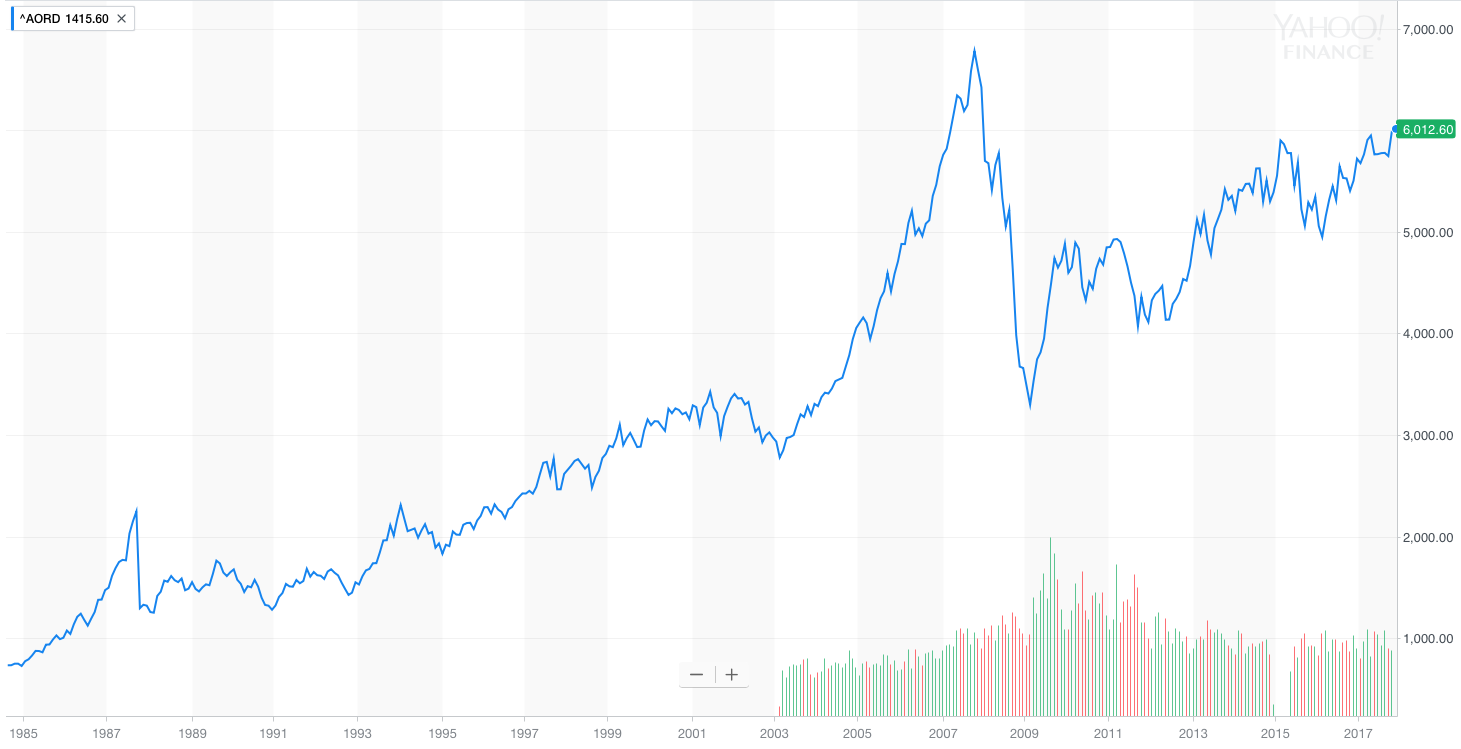 Source: Yahoo Finance
The 6,000 level for the All Ordinaries index has been seen as a barrier for some time now. While the All Ordinaries Index remains some 12% below its record level from 10 years ago, there is clearly support for the Australian share market at present, despite the continued threat of political risks globally.
On the property front, we are now starting to see strong signs that markets are cooling with low auction clearance rates and quarterly price declines in Sydney, Darwin and Perth markets.
Research recently from investment bank Credit Suisse suggested that the RBA may need to cut interest rates further to deal with any slowdown in the housing market. It is interesting that Credit Suisse is suggesting the next RBA interest rate move will be down, rather than up – which is in contrast to the consensus view amongst its peers.
For more information, please contact Ryan Love or Michael Clapham on 1300 856 338.
This article is general information only and is not intended to be a recommendation. We strongly recommend you seek advice from your financial adviser as to whether this information is appropriate to your needs, financial situation and investment objectives.