March was another positive month for investment markets, with rising investor confidence as COVID-19 vaccines are rolled out globally and low interest rates providing support for investment asset values. 
The Australian share market as measured by the All-Ordinaries index closed the month 1.1% higher at 7,017.6 points.  The Australian Dollar fell by 1.5%, with 1 Australian Dollar buying 75.9 US cents.  
Once again, the Reserve Bank of Australia (RBA) held the official Cash Rate at 0.10% per annum in March.  No change is expected to the Cash Rate when the RBA board meets again following the Easter long weekend.
Global share markets were generally higher in the month of March, with the United States Dow Jones index gaining by 6.6%, the London FTSE gaining by 3.6%, the Japan Nikkei 225 gaining by 0.7% and the Hong Kong Hang Seng Index falling by 2.1% for the month.
The record low interest rate environment is creating unprecedented support for property values at present.  Last weekend, a house in Sydney's inner west sold for a staggering $1.4mln over the auction reserve price!
There is evidence that the property market is strong nationally at present, with CoreLogic's national home value index recording a 2.8% rise in March as shown in the table below.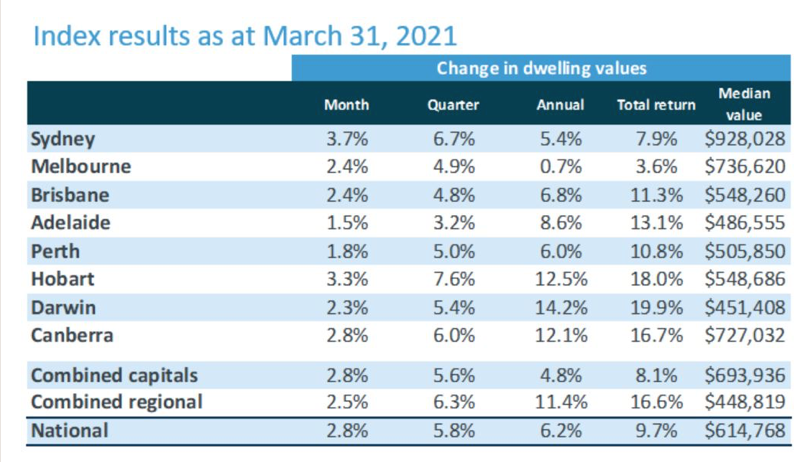 Source: CoreLogic
The March increase in the national home value index is the fastest rate of appreciation since October 1988 (nearly 33 years ago).  Sydney led the pack for gains in March, with values surging 3.7% over the month and 6.7% higher over the first quarter of the year.
The challenge facing the RBA, the Australian Prudential Regulation Authority (who regulate our banks) and the Federal Government is to continue to provide support for the economy with low interest rates and accommodative bank lending practices, while also trying to avoid a property market "bubble".  A strong property market is good for consumer confidence and the economy – however too much of a good thing can lead to disastrous consequences.
We just need to look back in history to the United States' property values in the lead up to the Global Financial Crisis to see what the impact a property market "bubble" can have on financial markets.  Perhaps the property in Sydney's inner west that sold for $1.4mln over the reserve price last weekend is early evidence of a "bubble" in values in the Sydney market.
For more information, please contact Ryan Love on 1300 856 338.
This article is general information only and is not intended to be a recommendation. We strongly recommend you seek advice from your financial adviser as to whether this information is appropriate to your needs, financial situation and investment objectives.