December capped the end of a remarkable year, arguably one of the most volatile years for investment markets in memory with the COVID-19 pandemic, government and central bank stimulus measures, all rapidly changing the course of investment markets.
Remarkably, the All-Ordinaries index closed the year 0.6% higher (gaining by 1.6% in December) at 6,850.6 points.  The Australian Dollar also continued to rally, increasing by a further 4.9% in December (after gaining by 4.5% November), with 1 Australian Dollar buying 76.9 US cents as at the end of the year.  
The Reserve Bank of Australia (RBA) did not meet in December.  The RBA board will meet again on the first Tuesday of February with no change expected to the Cash Rate (which stands at a historic low of 0.10% per annum).
Global share markets all rallied in the month of December, with the United States Dow Jones index gaining by 3.3%, the London FTSE gaining by 3.1%, the Japan Nikkei 225 gaining by 3.8% and the Hong Kong Hang Seng Index gaining by 3.4% for the month.
The table below shows the returns on a % per annum basis to 31 December 2020 for key financial markets over a 1, 2, 3, 5 and 10 year compound return basis.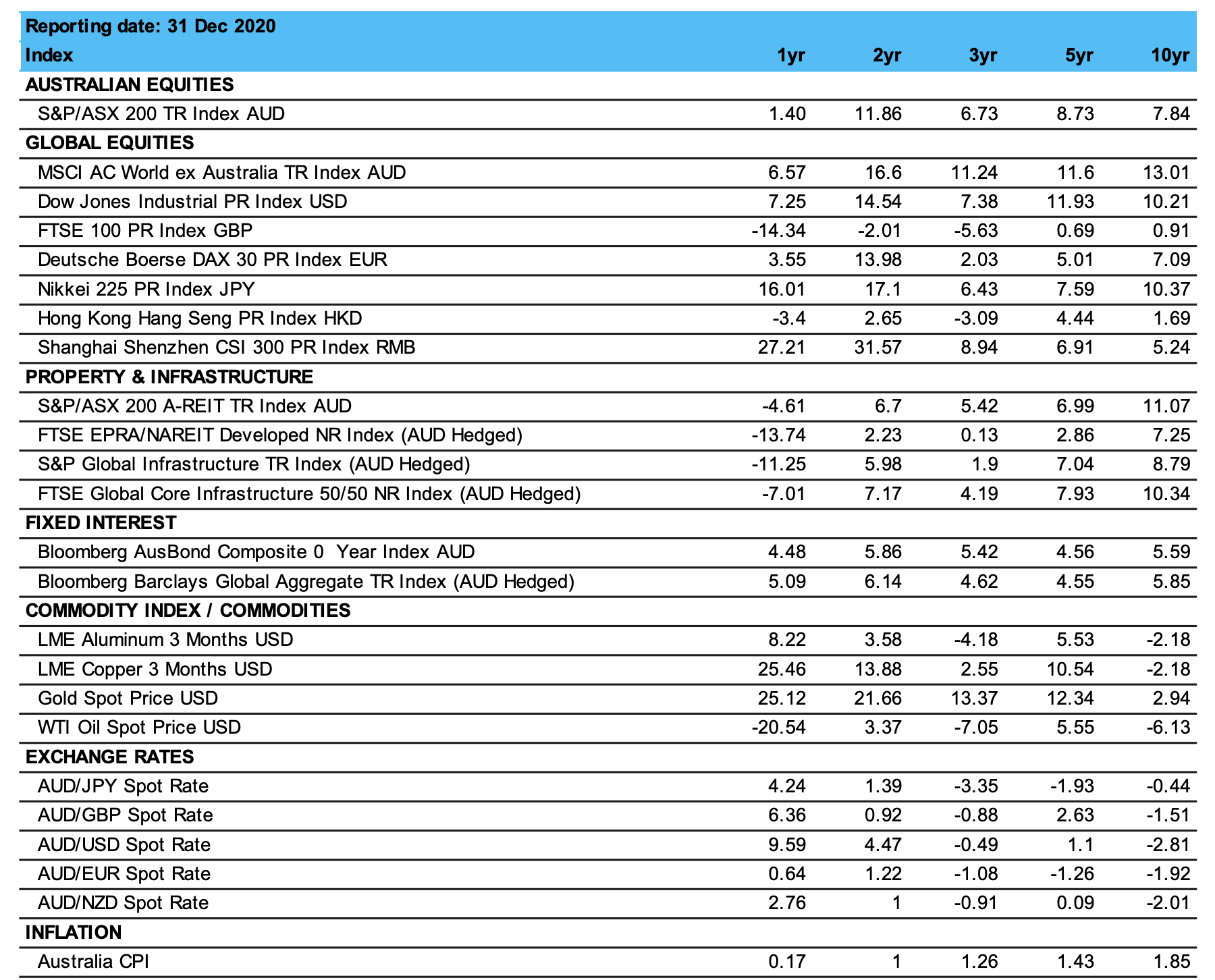 Source: Lonsec
Of note from the table above is that the majority of share market indices managed to generate a positive return for the 1 year to 31 December 2020.  As expected, with COVID-19 impacting commercial property and infrastructure assets (e.g. airports, toll roads etc.), these indices generated negative returns on a 1 year basis.
The increase in the AUD/USD exchange rate over the last year (up 9.6%) is also significant.  This has been driven in part due to extra demand for Australian Iron Ore from China late in the year (arising from China's COVID-19 stimulus measures and also disruptions to Brazil's iron ore supply). 
The AUD/USD exchange rate was as low as 55.2 US cents in March.  It gained by 39% to the value as at 31 December, and I personally expect to see the AUD/USD exchange rate to fall during the course of the 2021 (as the "temporary" China stimulus measures and Brazil supply chain issues are resolved).
For more information, please contact Ryan Love on 1300 856 338.
This article is general information only and is not intended to be a recommendation. We strongly recommend you seek advice from your financial adviser as to whether this information is appropriate to your needs, financial situation and investment objectives.