February saw global share markets continue to strengthen, with the All Ordinaries index gaining by 5.3% to close the month at 6,252.7 points.  This followed strong returns in January whereby the share market gained by 4.0%.
The Australian Dollar fell by 2.5% in the month of February, with 1 Australian Dollar currently buying 70.89 US cents.  The Reserve Bank of Australia board kept the official Cash Rate on hold at 1.50% per annum.
Global share market returns were all positive in the month of February, with the United States Dow Jones index gaining by 3.7%, the London FTSE gaining by 1.5%, the Japan Nikkei 225 gaining by 2.9% and the Hong Kong Hang Seng Index gaining by 2.5%.
It has been an extremely volatile six months for investment markets as highlighted in the chart below (with the black line being the United States Dow Jones Index and the blue line being the Australian All Ordinaries Index).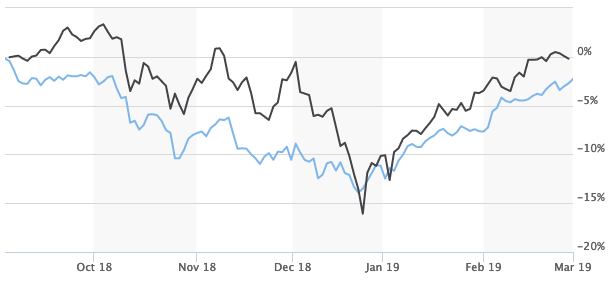 Source: www.marketwatch.com
Sentiment towards share markets turned from negative to positive on the back of comments from the United States Federal Reserve Chairman, Jerome Powell, telling a Senate Banking Committee the central bank would remain "patient" in deciding on further interest rate hikes. 
Furthermore, talks between United States and China on a free-trade deal have advanced.  President Trump's twitter feed posting the comment in late February "As a result of these very productive talks, I will be delaying the United States increase in tariffs now scheduled for March 1."
From a domestic perspective, the release of the Banking Royal Commission final report resulted in a sharp increase in the value of Australian bank shares.  Notwithstanding that some of the findings in the final report were damming, shareholders welcome certainty around the future of one of the country's largest sectors.
While all the above things are largely positive for investors, essentially there is "nothing new" for investors to digest. 
Risks continue to remain in relation to a United States/China free-trade deal, the continued weakening of the Australian housing market, a looming Federal Election, and to a lesser extent how Great Britain (which accounts for around 3.5% of the global economy) will manage its exit from the European Union.
I do believe that the near 15% decline in value of Australian and United States shares late last year was completely overdone.  That said, investors ought to remain cautious as volatility will continue to be a feature of investment markets over the short-term.
For more information, please contact Ryan Love on 1300 856 338.
This article is general information only and is not intended to be a recommendation. We strongly recommend you seek advice from your financial adviser as to whether this information is appropriate to your needs, financial situation and investment objectives.